Find out more about advertising on video on demand (VOD).
1. Watching TV is no longer limited to the living room
Gone are the days when you needed to be in your living room to watch TV. Now, people can watch TV via their tablets, smartphones and laptops. With the expansion of data networks like 4G and 5G, TV viewing has gone mobile.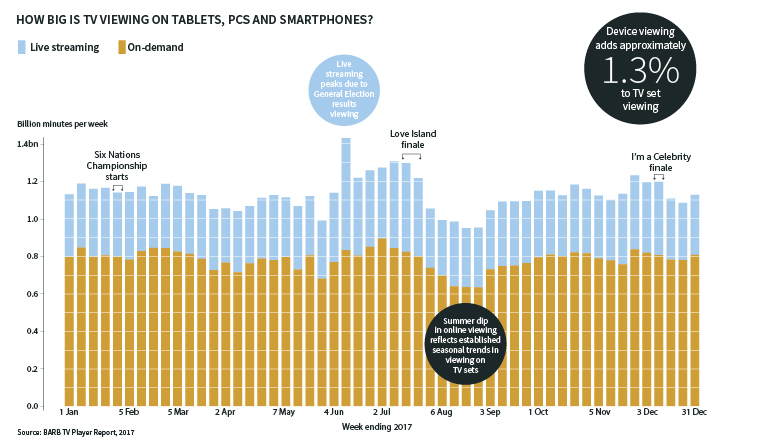 2. You can target your advertising
Advertisers are able to select and target audiences based on region, demographic profiling, audience interests (foodies, deal seekers, eco-conscious) and genre of content (entertainment, lifestyle, comedy and factual) for example. These choices allow your advert to be shown to exactly the right people.
3. Video-on-Demand (VOD) is great for reaching a younger audience
VOD is extremely popular with the younger audience. 75% of the UK's 16-24 year olds are registered on ITV Hub and 35% of the UK's 16-24 year olds are registered on All 4. This makes this platform great for reaching the younger audience. Read our blog on how Love Island reaches younger viewers.
4. VOD viewing is growing
VOD viewing on devices has grown by 14% year on year (Thinkbox). In recent news, the UK's two biggest broadcasters, ITV and the BBC, are in the final stages of discussions to launch a new subscription video-on-demand streaming service, BritBox, in the second half of 2019.
5. The ability to reach an affluent and engaged
61% of viewers are ABC1 (IPA Touchpoints 2016) and the view-through rate (the proportion of ads viewed from start to finish) is 92%. VOD has highly engaged viewers catching up on their favourite shows and watching premium box-sets and movies. They are happy to watch ads, as they are getting free, quality content in return.