Media Consumption following the death of The Queen
Undoubtedly the immediate days and weeks following the death of HRH the Queen affected us all in some way or another. It certainly affected consumption of media, and the way the media had to change their everyday broadcasting and reporting.
TV schedules were heavily disrupted prompting the conversation about whether coverage about The Queen was excessive, with 49% of audiences saying it was too much v's 41% of people who thought it was "about right". In spite of this, the Queen's global popularity and influence was evident, with an estimated 4 billion viewers watching the funeral and an audience of 25 million viewers in the UK.
The Queens death and funeral prompted many of us to buy a newspaper…certainly this was something that was discussed in our office… around 5.5 million people who claim they "don't usually buy a newspaper" said that they bought one following the death of Queen Elizabeth II.
The Sun saw a 33% increase week-on-week of physical copies sold on Friday, September 9, while The Times saw an enormous 113% increase on the same day. Commemoration issues were in such demand that some copies of The Times were selling on eBay the day after for over £50.
News websites saw a surge in traffic over the period of mourning; The Sun drove over 10 million unique views for several consecutive days following the news, while The Times also saw huge uplifts, with over 11 million page views for content relating to "the Queen'" in the first five days following her death.
When it came to TV, OOH and wider media, the majority halted all advertising activity as a mark of respect.
From a marketing perspective there were brands that were wide of the mark with their sentiments (mentioning no names). You Gov released figures that suggested consumers were cynical of such brand responses, with almost six in 10 saying brand messages about the Queen were more driven by PR than a sincere desire to pay respects. Only 28% thought these messages were likely to be genuinely heartfelt.
Are you thinking about using Podcasts as part of your advertising strategy?
There has been a huge growth in podcast listening over the last couple of years, whether it's when exercising, travelling, cooking or just kicking back it's a convenient, informative and entertaining way of listening to what you are interested in. 32% of people listen to podcasts monthly while 22% listen at least weekly (source: Edison Research). 67% of podcast listeners say that they perceive adverts on podcasts positively, trusting the adverts more than other types of advertising. (source: Statistics)
Podcast advertising allows brands to talk about their products gaining trust whilst listeners are consuming their favourite podcasts on their chosen trusted platform such as Spotify.
How does it work?
Adverts on podcasts can be delivered much like video-on-demand advertising. The audio is placed at the beginning, middle and end of a podcast episode, helping to establish a connection with the audience already engaged with their chosen podcast. 54% of people are more likely to buy from a company they have heard on a podcast advert (source:statistics)
What to consider?
1. Audience demographics – unlike TV advertising the audience won't be as broad, podcasts offer the opportunity to advertise to the most active podcast audience –  1/3 of millennials regularly listen to podcasts (source EX-IQ), and are often seeking new information and are likely to afford to show interest in new products and have the disposable income to try them.
2. It's all about alignment – Target podcasts that have audiences that will likely resonate with your advertising message. Podcasts can be niche and may offer great opportunities to connect with audiences by placing adverts in the right episodes to be more natural and related to the topic.
3. Utilise multiple podcasts – Advertise across a wider number of podcasts to ensure your message is being heard multiple times rather than investing in just advertising against one popular podcast with millions of listeners, this will ensure your message is heard more than once and will therefore increase the listener buy-in.
4. Advert type –  Ads can be delivered at the beginning, middle or end of a podcast or alternatively the podcast host can read the advert. Sponsorship is often available too for consistent messaging.
With so many podcasts available, and with so many listeners with buying potential, podcasts are a great addition to an advertising campaign, if you would like to learn more about how to advertise on a podcast that's appropriate for your business please contact us.
April Fools Ad Round Up
April Fools Day nearly passed us by this year…until morning TV news "gaffes" reminded us that here it was again, with a stream of hilarious mishaps (say no more). Having been reminded, we were on the look out all day for other "April Fools Day" heists and here are a few from the advertising world…
Marmite – "Opened up" a pre-hated marmite store on Ebay, selling peoples discarded Marmite jars after hating the taste.
Bovril – Joining forces with Sheffield FC allowing fans access to their own Bovril drinks on – tap dispenser which fans can enjoy at every match
Pot Noodle & Papa Johns – have together created a noodle pizza the "Pot Pizza" in 3 flavours such as Bombay Bad Boy following on from their creation the "Pot Noodle Sandwich"
Walkers Crisps – create bread-sized sandwich crisps created in response to Walkers research that revealed nearly 98%  agreed crisps make sandwiches better
Perhaps one of our favourites (throw-back drink early 1990's) Malibu, launched its super-premium Malibu XO which has been aged inside coconuts for 12 years. Only 100 of the XO blend are available, and the spirit comes in a black bottle, nestled in a gold collector's box, accompanied by a certificate of ownership.
The April Fools that made us chuckle were Aldi's budget airline and Professor Green's Shitamins ….we'll leave our round-up there!
Aldi launches budget airline
Professor Green becomes the face of Shitamins
Time to consider TV Sponsorship?
As we have recently planned a TV sponsorship for one of our clients Coleg Y Cymoedd on S4C for Bois Y Rhondda we thought it would be a good idea to re-visit the reasons why these are a really great option for brands to include in their marketing mix.
There are many benefits of sponsorship –
The TV viewing audience have an emotional response and attachment to TV shows which can be a powerful brand driver, extending emotions to the sponsoring brand – such as Coronation Street whose current sponsor is Argos
The wide range of programmes available offers many platforms of sponsorships for brands enabling them to target their ideal audience.
TV audiences are loyal, ensuring brands messages are seen multiple times by their target market , building a brand awareness that traditional TV does not – our client Cardiff Airport aligned their sponsorship with ITV Wales Cymru Weather
In cost terms, TV sponsorship can often be a smaller slice of a brands budget…reaching as large an audience but without the cost implications of buying a traditional TV airtime campaign.
TV Sponsorships are a fantastic way to align your brand with a programme and gain frequency with a specific target audience,
If you are interested in considering using sponsorship to align your brand with a TV or radio programme please contact our friendly and experienced team https://lnkd.in/gMafUwa
The best media to be including in your marketing plans right now
Over the next few months, England and Wales will take the first tentative steps out of lock-down restrictions. Find out how to market to your audiences as their behaviour changes.
To quickly re-cap, below are the key dates in the lifting of restrictions in both countries.
Key Dates in England
12th April – retail, gyms, zoos, theme parks, self-contained accommodation to re-open, outdoor hospitality to re-open with alcohol served and no curfews.
17th May – ease of limits on visiting family and friends, indoor hospitality to re-open with alcohol served and no curfew, cinemas, hotels and indoor and outdoor performances and sporting events allowed.
21st June – all social contact limits removed, nightclubs to re-open.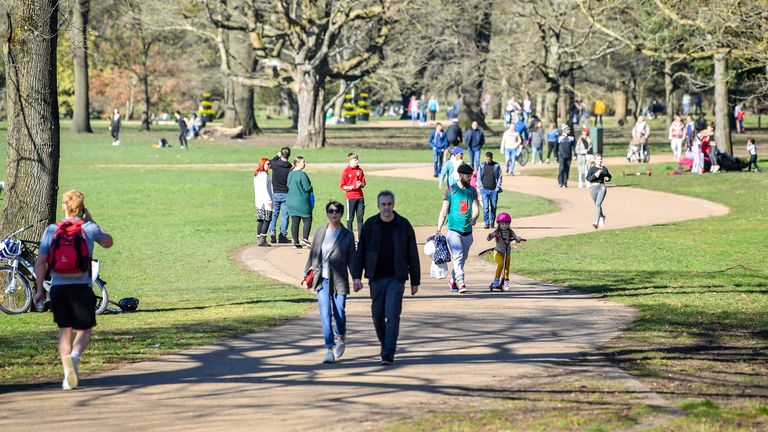 Key Dates in Wales
26th April – outdoor hospitality to re-open with alcohol served and no curfews, outdoor attractions to re-open.
10th May – gyms to re-open and extended household 'bubbles' allowed to meet indoors.
17th May [not confirmed] – possibly allowing indoor hospitality and hotels to re-open in time for the Spring bank holiday on 31st May.
From the end of April, consumer behaviours in England and Wales should change significantly as people are allowed to enjoy hospitality venues. We can expect to see a shift in people wanting to spend more time outside of the home, especially in the warmer summer months.
So, what is the best media to use in your marketing campaigns over the next few months?
Radio
Radio listening has increased significantly over the past 12 months.
A new, affluent, audience has emerged as people work from home.
Radio is trusted by listeners who use it to get the latest news.
A 'brand-safe' environment for your marketing plans.
Radio will continue to play a part in people's lives as restrictions lift – in the office, car and at hospitality venues.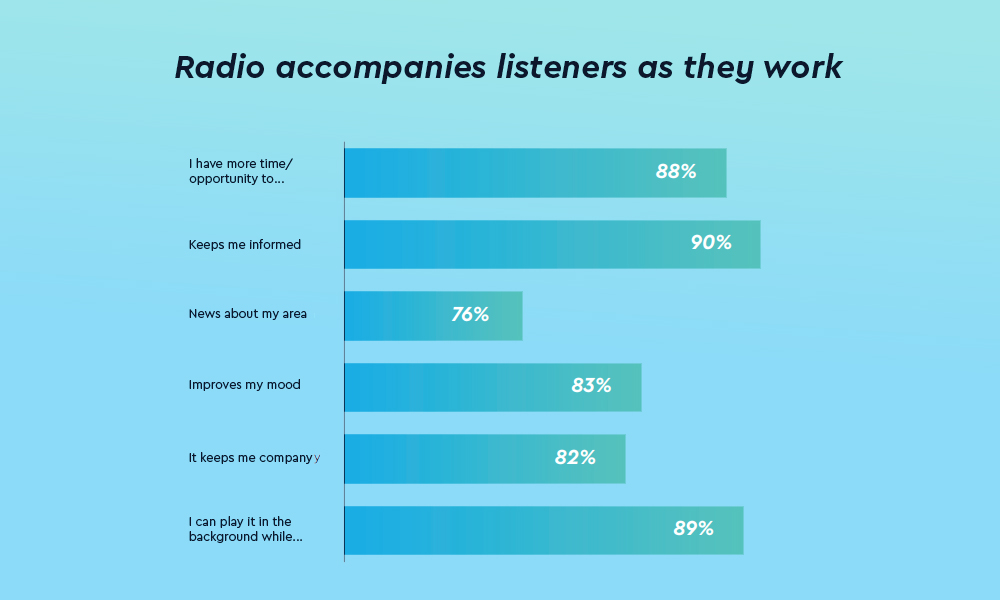 Television and video on demand
Digital
People spend around 3 hours and 23 minutes a day on phones.
According to Ofcom, our screen-time surged over the past year.
Readership of online news channels has soared.
Digital can be incredibly targeted – minimising audience wastage.
What media types should you be cautious about?
Until restrictions lift, you should be cautious about using out-of-home [OOH] and press in your marketing plans.
Audience figures for OOH media are around 70% of pre-COVID levels, but these are predicted to increase in limits end and people have more reasons to leave the house.
However, audience figures for OOH sites in proximity to supermarkets and parks is higher than the average, so these could be considered.
While online press readership has increased, print-runs of physical papers remain low and this is a sure indication that readership levels have not yet recovered.
Do you need assistance in selecting the right media for your next marketing campaign? Get in touch with our friendly team today.
Sources: https://www.gov.uk/government/publications/covid-19-response-spring-2021/covid-19-response-spring-2021-summary, https://www.itv.com/news/wales/2021-03-31/wales-covid-lockdown-roadmap-announced-with-potential-reopening-date-for-indoor-hospitality, https://elitecontentmarketer.com/screen-time-statistics/,
Time is running out to plan your festive marketing campaign
It's time to talk about another 'C' word – and one which is fast approaching, with less than 60 days to go! It's Christmas of course, and time is running out to plan your festive marketing campaign.
In less than a week we'll say goodbye to Halloween and the merry gates of the festive season will be well and truly open for business. With Christmas adverts historically being released in the first two weeks of November, it'll soon be a fast countdown until Black Friday, Cyber Monday, and the last payday before the big day itself.

But don't worry, there's still time to plan a great marketing campaign for your business or brand in time for the Christmas shopping rush.
The Media Angel remove the stress and worry of planning a marketing campaign, and our team make the entire process seamless and worry-free!
Using the latest marketing research, we plan the best media to reach any target audience, in any location, for budgets big or small.
We can even ensure your plans are 'COVID-secure' by planning media which is unaffected by a local or national lockdown, or ensure we have options in place should that happen.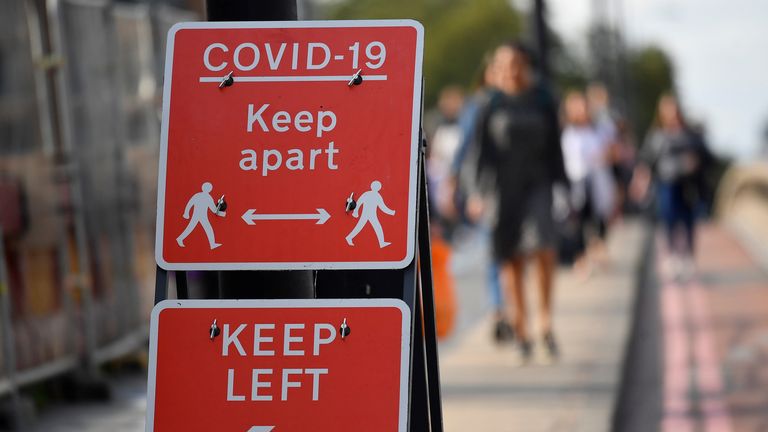 Are you competitors pulling back on their Christmas marketing spend? This is great news for you! It means an increased share of voice and the chance to reach new customers, while projecting an image of corporate stability.
If you're thinking of a marketing campaign for Christmas 2020, act now! Get in touch with our friendly and experienced team today on 02921 320 200 or email us at [email protected].
The 2019 Christmas adverts have started!
We can't believe it's that time of year again, but the 2019 Christmas adverts have started. Join us as we look at some of our favourites so far…
Very
One of the first adverts to appear on our screens this year, was Very's. We think it's a great start to the Christmas advert season!
Argos
For the first time in almost a decade, Argos is putting their paper catalogue at the centre of their Christmas campaign.
Amazon
The singing boxes are back! This year to the tune of Solomon Burke's classic track, Everybody Needs Somebody to Love.
Smirnoff
Smirnoff have kicked off the party season with their cheeky advert featuring Laverne Cox, here's to not-so-Silent Nights!
Walkers
It doesn't get more festive than Mariah Carey, who finds herself in a tussle for the last bag of Walkers in this ad.
Aldi
Will Kevin the Carrot defeat the Leafy Blinders?
M&S
Featuring the choir from Ysgol Gynradd Gymraeg Llwyncelyn in Porth, Rhondda, Paddy McGuinness and Emma Willis, this advert features some of M&S' festive offerings.
IKEA
This is giving us Stormzy-vibes, is there a full-length version of the song? Asking for a friend.
Sainsbury's
In this (true) tale, we follow the story of Nicholas the Sweep in Victorian London.
John Lewis
IT'S HERE!
5 Most Iconic British Adverts of All Time
Research firm Katnar surveyed over 1000 consumers in the UK to find out what the nation deemed to be the most 'iconic' ad and the most 'heartwarming' ad of the past 60 years.
Hovis' endearing 'Boy on the Bike' ad has beaten off competition from Cadbury, Levis and Smash to be crowned the most 'iconic' UK ad of all time.
'The Bike Ride', which tells the story of a little boy pushing a bike loaded with bread up a cobbled hill, was also found to be the most likely classic ad to pull on Brits' heartstrings.
Hovis' 45-year-old film, which is scored by the emotive sound of Antonín Dvorak's New World, topped both categories. 22% said it was the most seminal ad and a further 15% said it was the commercial that made them most emotional.
Set in post-war Britain, directed by Sir Ridley Scott and created by Collett Dickenson Pearce (CDP) agency, the ad takes the viewer up Gold Hill as a bread boy struggles to get his bread-delivery bike up the steep slope on his round.
He then freewheels back down the hill to a voiceover: "like taking bread to top of the world – t'was a grand ride back though".
When it came to the most iconic ads, 11% of Brits ranked Cadbury's 2007 Gorilla ad, which featured an anthropomorphic gorilla drumming to Phil Collins 'In the Air Tonight', in second place.
It was closely followed by Coca Cola's 1971 classic featuring young people singing I'd Like To Teach The World to Sing and Levi's 1985 'Laundrette' ad. The Smash Martians completed the top five.
1. Hovis 'The Bike Ride'
2. Cadbury 'Gorilla'
3. Coca Cola 'Hilltop'
4. Levi's 'Launderette'
5. Smash 'The Smash Martians'
In terms of the most heartwarming ads. Yellow Pages' 1983 'JR Hartley' advert, which tells the story of JR Hartley and his search for a copy his book, was ranked second with 19% of the vote.
John Lewis's 2010 'Always A Woman' clocked in at number three, while 'Hilltop' from Coca-Cola took fourth place. Cadbury came in at number five in the emotional stakes.
Game of Thrones partnerships tease final season
With the final season (breathe) of Game of Thrones almost here, HBO have been making the most of the hype to partner with brands to fund the series. Since product placement isn't an option in Westeros, brands have had to get more creative than ever to integrate themselves into the world of Game of Thrones.
What are some of our favourite brand partnerships?
1. Oreo
Not a brand you'd expect, but Oreo painstakingly reconstructed the stop-motion titles of the Game of Thrones franchise with 2,750 cookies to promote one of its largest-ever brand collaborations.
The film was created to promote the brand's latest limited-edition pack, which features embossed designs of the fantasy houses fighting for the Iron Throne – as well as the face of the White Walkers beyond the wall.
2. Bud Light
Bud's recent 'Dilly Dilly' adverts placed the brand in the same time-period as Game of Thrones, albeit without the killing and blood, but how would a partnership with The Mountain go?
The mashup saw Game of Thrones' The Mountain defeat the Bud Knight. Meanwhile, Daenerys Targaryen's dragon burned the 'Dilly Dilly' kingdom to ash.
3. Johnnie (White) Walker
Game of Thrones and Diageo formed their second alliance to release a limited-edition collection of single malt whiskies to celebrate the eighth and final season of the long-running HBO drama.
The collection is inspired by the characters and the world of Westeros, and features eight scotches, each paired with one of the Houses of Westeros, as well as the Night's Watch, giving fans a taste of the Seven Kingdoms.
However, we think their first collaboration took the concept further.
HBO previously worked with Diageo to create White Walker by Johnnie Walker, inspired by Game of Thrones' icy villains. The blend was created to be served directly from the freezer, incorporating the brand into all aspects of the drink instead of just adding a Game of Thrones label to a normal blend.
5. Adidas
Can you think of another TV series you'd happily wear branded clothing of? X Factor, Made in Chelsea…doesn't really work does it?
The German sportswear brand created six pairs of limited edition Ultra Boost sneakers based upon the royal houses in the series.
A fresh design was whipped up for the Night's Watch, the White Walkers, House Targaryen, the Targaryen's dragons, House Stark, and House Lannister.
The sneaks were laden with house sigils and mantras to further sell the tie-in.
6. The Bellagio
We weren't sure what we were expecting from this one, but this results is spectacularly beautiful.
Will you be staying up until 2am on Sunday to watch the beginning of the final season?
Top 5 April Fools' Day Pranks 2019
It's that time of year when you spend the morning on social media thinking, is it…or isn't it? We've looked at the five top April Fools' Day Pranks of 2019.
1. The one we'd use in real life
In its mission to make roads everywhere more civilised, Honda Canada has launched a solution: the polite horn.
2. The prettiest one
Hello Fresh is adding the 'The Unicorn Box' to its meal subscription box options. The first-of-its-kind experience contains three colourful recipe kits that will let diners eat "like a mythical creature with a box full of farm-fresh rainbows, smiles, and joy right at your doorstep".
3. The one we'd like to taste
After four years of intense research, Nestlé has crafted the optimal blend of tea leaves for the perfect brew to accompany its famous KitKat break. This tea has been developed in the brand's very own Teaology labs and comes in tea bags inspired by the signature KitKat range: two-finger, four-finger and KitKat Chunky to fit every break occasion.
4. The one we'd all Instagram
Sainsbury's is to stock a limited edition run of ripe and ready pink avocados – a naturally grown hybrid of different avocado varieties.
The supermarket has worked closely with a supplier in Peru to grow the exclusive Rosa-vo, which will go on sale as an initial trial to gauge popularity among UK customers and Instagram hungry millennials.
5. The one we're all glad isn't real
As part of an extension to the airline's 'depart the everyday' campaign, passengers will be encouraged to join the crew for in-flight karaoke from shortly after take-off.
Highlights of the schedule include a Saturday Night Cabin Fever disco on weekend flights, mile-high hip-hop during flights to LA and non-stop Sinatra on flights to New York. 10 hour non-stop karaoke anyone?
Christmas Retailers: winners and losers
In January, the British Retail Consortium declared 2018 the worst Christmas since the financial crash in 2008. Sales were flat, with year-on-year growth sitting at 0%. In-store sales were down while online growth slowed. Consumer spending overall was up just 1.8%, the lowest rate since March 2016.
That has led to profit warnings, disappointing sales and in the worst instance HMV going into administration for the second time. But all in all it could have been much worse. And amid the darkness there have been a few glimmering beacons of hope, largely thanks to last minute Christmas shopping and online sales.
High street hope
Let's start with the bright spots on the high street. Like-for-like sales at John Lewis were up 1% after the department store stuck to its usual blockbuster spot and splashed lots of dosh on a 140-second ad about Elton John (The Boy & The Piano by Adam&EveDDB).
The main campaign video racked up 50 million views on social media – 16% more than last year's Moz the Monster campaign. 
Heavy discounting around Black Friday and in the run-up to Christmas no doubt played its part in the sales uplift, which simultaneously led to John Lewis issuing a profit warning for the year ahead as it is forced to price match due to its 'Never Knowingly Undersold' price promise.
Commercial over emotional
Marks & Spencer, with its "unashamedly commercial" approach, had the opposite outcome, with like-for-like sales across food, and clothing and home down 2.1% and 2.4% respectively but no warning on profit.
In spite of the sales dip, it claims the product focus paid off and that customers "responded well", with record sales of products that featured in the ads. That is to be expected but perhaps it would have seen wider sales rise with a more brand-led approach. The drop in sales was instead down to low consumer confidence, mild weather, Black Friday and widespread discounting from rivals.
Where M&S did see good growth was online, with a 14% increase in sales.
Next is another retailer that benefited from a big boost in online sales (up 15.2% year on year), while total Christmas sales were up 1.5% (Next's update was just a trading statement so no like-for-like figures) thanks to a late surge in shopping in December.
However, this may have been at the expense of its high street stores, where sales were down 9.2%, adding Next to the list of retailers that have had to reduce their profit guidance for the year ahead.
Having made the decision to ditch the "vanity project" TV ad in favour of much shorter ads and experiential activity in-store, Debenhams failed to "create a true gift destination" and "capitalise on the social shopping trend", like it said it wanted to do, and reported a sales decline of 5.7%.
Source: https://www.marketingweek.com/2019/01/14/christmas-marketing-strategy/?cmpid=em~newsletter~breaking_news~n~n&utm_medium=em&utm_source=newsletter&utm_campaign=breaking_news&eid=7146589&sid=MW0001&adg=5C1E1BD4-B878-43B7-9CA5-52C2F49301DB
The Most Complained About TV Shows of 2018
Perhaps unsurprisingly, Celebrity Big Brother was the television programme that Ofcom received the most complaints about in 2018.
Over the year, they received a total of almost 56,000 complaints about programmes from viewers and listeners. Together, the top ten most complained about television shows prompted more than 47,000 complaints, making up 86% of the year's total.
Channel 5's Celebrity Big Brother attracted the most complaints in 2018, with 27,602. Most of these were about an allegation of physical abuse made by Roxanne Pallett against Ryan Thomas.
Second on the list was an episode of ITV's Loose Women. This prompted 7,912 complaints, most of which were about an interview with guest Kim Woodburn.
ITV reality shows Love Island and The X Factor also featured in the top 10 (ranked 4th and 10th respectively), along with storylines on Coronation Street (5th) and Emmerdale (6th) which prompted hundreds of viewers to get in touch with Ofcom. Good Morning Britain (7th), This Morning (8th), Sky News (3rd) and I'm a Celebrity… Get Me Out of Here (9th) complete the rankings.
Ofcom launched 137 investigations into TV and radio programmes in 2018. Of those, 129 were concluded this year. They found the broadcasting rules were broken in 80 cases; 33 cases were found to have not broken the rules; and 16 cases were resolved – which means in those cases Ofcom's concerns were satisfied by the broadcaster.
The top ten in full:
Celebrity Big Brother: 27,602
Loose Women: 8,002
Sky News: 4,251
Love Island: 4,192
Coronation Street: 1,098
Emmerdale: 759
Good Morning Britain: 548
This Morning: 402
I'm a Celebrity…Get Me Out of Here!: 335
The X Factor: 286
Sources
https://www.ofcom.org.uk/about-ofcom/latest/features-and-news/the-most-complained-about-tv-programmes-of-2018