COVID-19, your marketing and how The Media Angel can help.
Updated 20.03.2020
As people move inside and practice social distancing due to effects of the Coronavirus, outdoor marketing platforms such as mall, underground and rail are experiencing a decline in footfall and exposure. It is important that marketing plans remain agile and responsive in order to reach people as their behaviours change. Find out how COVID-19 is predicted to affect the marketing industry, and how we can help.
The effects so far
London Underground
As of 2 March, the number of people using the Tube dropped by 19% compared to the same week in 2019. Data also showed a 10% drop in London bus riders (BBC).
The London Underground handles up to 35 million passenger journeys per week, a decrease of 19% means over 6 million less journeys per week, over a two week campaign that could be 12 million less people seeing your advertising (BBC).
Yesterday (19th March), TfL also announced the closure of up to 40 stations across the network.
Rail
Some of the UK's rail services could be axed due to the coronavirus outbreak after the number train passengers fell by a fifth over the past week (The Independent).
Grant Shapps, Transport Secretary, said "The railways have definitely seen a big drop off … last week by about 18-20 per cent in the number of passengers."
Malls
Shopping centres experienced a slight increase in shoppers due to 'panic buying' but footfall has since dropped as news of the virus intensified.
With retailers such as Apple and Adidas closing stores in and outside of China and people practicing social distancing, it is expected that mall footfalls will continue to fall.
Predicted changes as consumers move indoors
As people's behaviours change and more work from home and stay away from public spaces, platforms such as broadcast video on demand (ITV Hub, All 4) and online will experience an increase in users.
Video on demand
Digital subscription services such as Netflix and Now TV have already experienced growth of 12.4% according to a survey by Barclaycard, a trend which is most likely mirrored in all video on demand services (The Drum).
Netflix also recently announced they will be reducing streaming quality in Europe to free up internet bandwidth for other uses.
Food delivery services have also seen a growth of 8.7% as people avoid supermarkets.
Online
With more and more people spending time at home, e-commerce advertising spend is predicted to grow by 17.7% and social media spend by 22.2% (The Drum).
91% of brand marketers surveyed by Marketing Week predict an increase in consumers' use of online services, while 77% expect to see a rise in social media activity and 71% predict an increase in ecommerce usage.
In light of these behaviour changes, 14% of brands have said they will be moving budget from out of home to online media (The Drum).
Internally, marketing agencies have been stopping face-to-face meetings and moving towards remote working. 32% of UK marketers say that remote working has been somewhat rare or rare until recently, 92% say it will become somewhat or very common over the next two quarters.
Radio
During these unprecedented times, radio becomes an important source of information for consumers, as well as a platform for people to escape to.
Repeated studies show that radio is the most trusted medium for news, with research finding that 77% of audiences in the UK say they see radio as a trusted source of national news, more than any other media. The same study also found that 60% of listeners turn to radio to keep informed during emergency situations.
A study by Audio Now has identified six ways people use radio.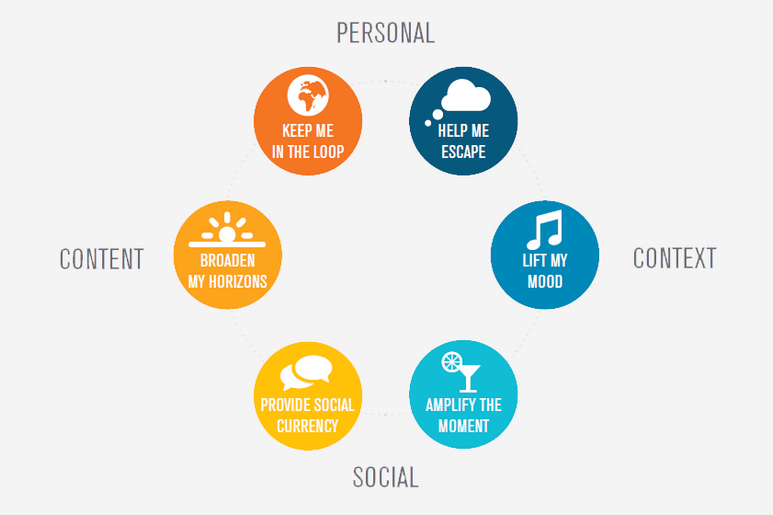 Live radio especially offers a human connection to those who may be self-isolating, or workers at home missing their colleagues!
On a positive note
A study by Kantar has shown that consumers are now more excited than ever to get back outside again!
How can we help?
In times as confusing and rapid-changing as these, having an experienced and friendly team alongside you and your business can help to alleviate some of the stress involved with adapting how you usually buy your media, and help plan new, adaptive strategies.
The Media Angel's team have already begun adapting their clients' campaigns to move with changing consumer behaviours.
If you need advice and help to plan and buy marketing campaigns to better suit your consumers' new behaviours, get in touch with our friendly team today.
Sources
https://www.bbc.co.uk/news/uk-england-london-51910740
https://www.cityam.com/tube-journeys-fall-during-uk-coronavirus-outbreak/
https://www.washingtonpost.com/business/shopping-malls-face-their-coronavirus-reckoning/2020/03/04/9c796d60-5e04-11ea-ac50-18701e14e06d_story.html
https://www.washingtonpost.com/business/shopping-malls-face-their-coronavirus-reckoning/2020/03/04/9c796d60-5e04-11ea-ac50-18701e14e06d_story.html
https://www.thedrum.com/news/2020/03/05/coronavirus-will-impact-ad-spend-could-drive-shift-utility-e-commerce-and-live
https://www.thedrum.com/news/2020/03/10/deliveroo-and-netflix-experience-coronavirus-boost
https://www.independent.co.uk/news/uk/politics/coronavirus-train-disruption-rail-transport-travel-grant-shapps-flights-a9403891.html
https://www.radiocentre.org/radio-bites-a-friendly-companion/
Tags: marketing advice, marketing help, advertising advice, advertising help, coronavirus, COVID-19, business help during coronavirus UK, marketing help during coronavirus, advertising help during coronavirus, Wales marketing coronavirus, Wales advertising coronavirus.