TV advertising
Television advertising continues to be an effective and impactful method of advertising, TV-focused campaigns outperform those without by 35%; below are some reasons why traditional advertising should remain a part of any marketing mix:
Wide reach
TV advertising has a vast-reaching audience as well as the capacity to quickly and frequently connect with a wide range of demographics. The average UK resident is expected to see around 40 TV adverts daily, reaching as many as 70% of the population in a single day (Improve Marketing 2023).
Brand credibility can be enhanced immediately by featuring on main TV channels and during well-known programs. Consumers of TV adverts frequently perceive brands that advertise on TV as more reliable and trustworthy with 40% of UK residents believing messages delivered on them. (Statista 2023).
TV adverts are often aired repeatedly, and your brand can be seen multiple times in a single day. The combination of repeated visuals, audio, and storytelling can create a long-lasting memory for a single viewer and for wider audiences. 3 or 4 repetitions of one TV commercial are sufficient to keep a viewer's attention (Themediaant 2022).
Complementary advertising
TV advertising is seen to be complementary to many other forms of media, a multi-media approach with the same campaign can significantly amplify brand presence. TV and Digital have a significant connection, TV advertising has been shown to increase the visibility of digital ads as well as organic interaction (Improvemarketing, 2023)
TV advertising has the highest ROI of any media, generating an average return of £1.79 for every £1 spent, accounting for 71% of all advertising revenue (Thinkbox, 2022).
TV advertising increases brand awareness by 20% as well as brand consideration by 27%, and purchase intent by 15% (Thinkbox 2023).
__
Considering the benefits above, why not incorporate or enhance your brands' exposure on TV?
So, if you need help with being seen through TV advertising, get in touch with our experienced team today!
Ad spend to shift from Facebook to Instagram
Brands head to Instagram to spend their ad budget in 2019, with more advertisers preferring it over Facebook.
Instagram is becoming an increasingly attractive place for brands to splosh some dosh and the numbers suggest this trend will continue into 2019. With advertisers increasingly turning their backs on Facebook's News Feed and making better friends with Instagram's Stories.
According to Socialbakers, ad spend on Instagram increased in 2018 while decreasing on Facebook, driven by hard-to-rival engagement levels on the photo-sharing platform.
While Instagram has a smaller audience size compared to its parent company, its users are far more engaged. Suggesting that Instagram is the go-to for capturing quality engagement within smaller communities.
Last year, Instagram posts continued to reach and garner more impressions per fan than its Stories feature (around 15% and 25% more, respectively).
However, the volume of brands posting on Stories has quadrupled over the last year, with brands investing 212% more in Stories compared with the previous year.
A quarter (25%) of brands' Instagram ad spend now goes on Stories. This will continue to grow through 2019. As just a few examples, easyJet recently made it possible for users to find and book holidays simply by clicking on a photo, while Spotify, SoundCloud and Shazam are offering their services via Stories. Expect to see more of this integration in the coming months, especially as Instagram promises to enhance its ecommerce features.
Alice Cuffe, editor at We Are Social, says while no one can argue that the specialised and detailed targeting of Facebook is appealing to advertisers, when it comes to creative innovation, Instagram Stories has the edge.
"Instagram has evolved Stories to allow brands to connect with audiences in a space where they feel comfortable enough to express their truest, least curated selves," she explains.
"While Facebook is simple and reliable, Stories is currently owning the reactive space. Functionalities such as polls, questions, emoji sliders and swipe-up links all provide an easy and immediate way to connect with your audience and allow them to react to your brand in the moment. The temporary nature of Stories also means brands have more freedom to experiment, without necessarily requiring heavy design work or rounds of internal concepting."
Interested in how we can help with your marketing?
Talk to our team on 02921 320 200 or [email protected]
If you want to find our more about social media advertising, click here.
Source: https://www.marketingweek.com/2019/01/04/five-trends-media-2019/?cmpid=em~newsletter~breaking_news~n~n&utm_medium=em&utm_source=newsletter&utm_campaign=breaking_news&eid=7065287&sid=MW0001&adg=5C1E1BD4-B878-43B7-9CA5-52C2F49301DB&nocache=true&adfesuccess=1
Ad-funded free Wi-Fi kiosks launched by BT and Primesight
The state-of-the-art replacements for London payphones finally launched this week, with Camden the first borough to turn on the shiny new machines.
The new InLinkUK kiosks, which allow hundreds of users to access Wi-Fi, will also provide free landline calls and marks the next step in the evolution of payphones in the capital. Created via a partnership with BT, Primesight and Intersection, they will provide free Wi-Fi, calls and phone charging services – all funded by the incorporated digital advertising.
The free services supplied by the kiosks will be funded by the ad revenue generated, but other "premium services" such as maps, directions and local services will also be available.
Sensors will feature on the new Links, which can capture real-time data relating to the local environment, including air and noise pollution, outdoor temperature and traffic conditions. This could potentially introduce a new range of "smart services" to local councils and communities based on the Internet of Things, says BT.
Only two 55-inch digital ad display Links have been installed on Camden High Street so far, with at least 1,000 InLinks being installed across central London and major cities across the UK over the next few years.
Advertisers will be able to buy on a 'share of time' basis in the kiosks placed only in high footfall, inner-city locations. They have also been designed to be seen by pedestrians as well as motorists.
InLink will offer advertising for national brands, but will also support "community commerce" allowing local advertisers to buy screen time. It also offers opportunities to tailor ads to the weather and can promote local businesses with timely offers and directions.
London is second only to New York in bringing InLinks to its streets, which were first installed in January 2016 as part of LinkNYC. Over 1.8 million users have registered to use the Wi-Fi service in the US.
If you need help ensuring your marketing budget is invested in the right media platforms so you STAND OUT and get results contact our award winning team for impartial media planning and buying expertise on [email protected] or call us on 02921 320 200.
The Media Angel Take Home Best Advertising Campaign Award
We are delighted to announce that we have won Best Advertising Campaign at this years CIM Chartered Institute of Marketing Wales/Cymru Awards 2016 held at Portland House in Cardiff Bay on 23 November.
Our innovative advertising campaign that we implemented for National Botanic Garden of Wales was to help them increase visitor numbers and promote new attractions including The Butterfly House / Plas Pilipala. To help achieve this we developed a family focussed, integrated campaign that ran throughout summer 2016. As a result the campaign that included video, radio, online and outdoor marketing, increased family visits by 68%.
David Hardy, Head of Marketing and Communications for National Botanic Garden of Wales said: "We are delighted to have won "Best Advertising Campaign" for our Butterfly House with The Media Angel who did a fantastic job, we are still reaping the benefits of their excellent work today."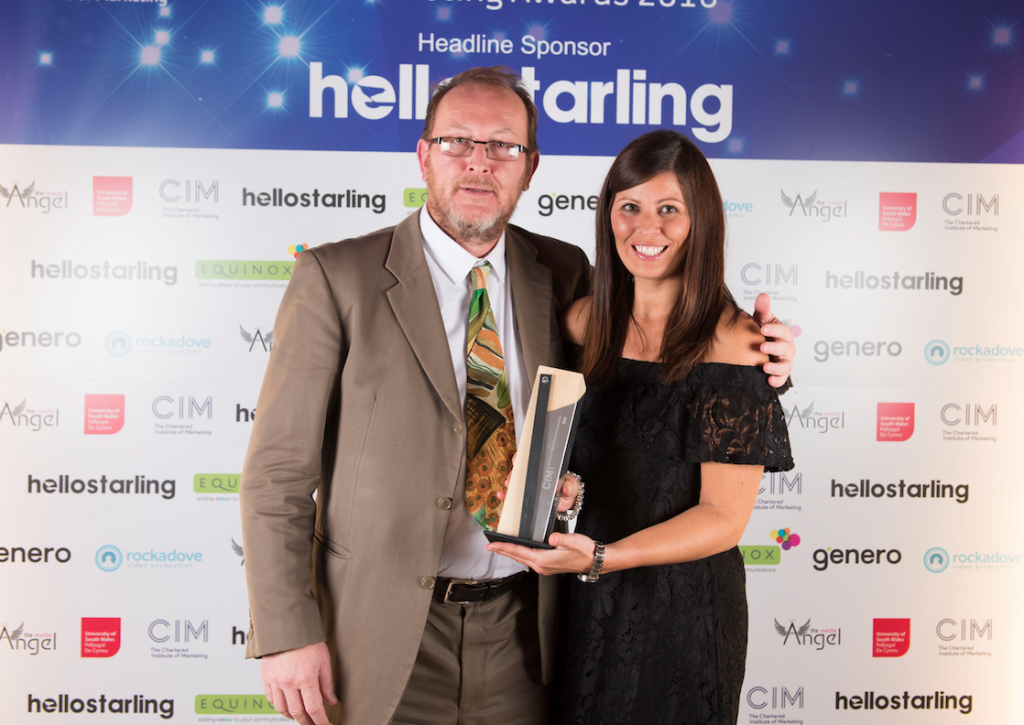 The CIM's prestigious Wales Marketing Awards highlight industry excellence and celebrate the achievements of marketing professionals in Wales. The award for "Best Advertising campaign" recognised a campaign that used striking creativity and strategic planning to reach and engage a family audience. The channels used and results delivered against the campaign objectives really impressed the judges.
On winning this accolade Managing Director Alison Debono said: "We are thrilled to have won this CIM Award. This campaign highlights that great results and a good return on investment can be achieved with limited budget, creativity and by selecting the most appropriate media mix to deliver the campaign objectives. We are beyond happy that our work has been recognised once again on a National basis"
If you would like to read more on the sucess of this campaign please click here…
If you need inspiration on implementing your next advertising campaign contact our award-winning team on 02921 320 300 or via email: [email protected]
UK Adspend looking positive despite Brexit gloom
Adspend in the UK is forecast to grow for the eighth successive year in 2017, with predicted growth up from 5.8% to 7.2%, according to the latest figures from the WPP media agency group.
Upgraded growth forecasted for Group M this year – up from 6.3% to 7.2% for 2016.
Traditional media advertising spend is predicted to fall from -1.1% to -2.6% for 2016 and from +0.5% to -1.4% in 2017
TV ad spend is expected to be down 0.1% this year and up 1.0% in 2017.
A growth in cinema advertising is expected by 1% in 2016 and by 3.4% in 2017 following a huge increase of 21.5% in 2015.
Pure-play digital ad market share has risen to 52% this year and is predicted to grow up to 55% next year.
A 15% rise in digital display demand is likely for next year, with paid search accelerating and remaining the largest driver of growth.
Are you undecided on the best channels to suit your marketing objectives? Contact our friendly team on 02921 320 200 or email [email protected] for award-winning media planning and buying advice.
The Media Angel proudly supports this years CIM Canmol Wales Marketing Awards!
The Media Angel is a proud partner of the CIM Canmol Wales Marketing Awards this year.
This is a really exciting opportunity for The Media Angel, and we are delighted to have our brand and name affiliated with such a prestigious event in the Welsh marketing calendar! 
The Canmol Awards praise those individuals, teams and companies who have demonstrated real marketing excellence in Wales and we are thrilled to become strong associates with this event.
The award nominees will be judged on their planning, innovation, delivery and execution, and will be assessed on their campaign's effectiveness and return on investment. The awards celebrate only the very best in the Welsh marketing industry and showcases Wales' finest talent in implementing effective and successful marketing campaigns.
Richard Houdmont of the Chartered Institute of Marketing expressed his joy at the partnership, stating 
"The Canmol: Wales Marketing Awards are a celebration of marketing excellence and CIM is delighted that The Media Angel is supporting the event by becoming a sponsor."
Not only will The Media Angel be supporting the awards event through sponsorship of the welcome drinks, but we will also be supporting our very own client Cardiff Airport, who is nominated for an award within the tourism and destinations category.
The awards have always been an exciting event for us; last year with the help of our media planning and buying expertise, our client Swansea University won an award for their outstanding undergraduate recruitment campaign!
This year's event will be held at St David's Hotel in Cardiff Bay on 10th October 2014. Good luck to all the finalists! We look forward to seeing you there.