Integrating TV Advertising with DOOH
When TV advertising and DOOH advertising are combined, the impact on the viewer is significantly increased rather than with one medium alone.
TV advertising creates prestige for a brand whilst developing an element of trust with the viewer. 77% of adults claim that TV adverts are most likely to trigger an emotional response leaving a memorable impression on the viewers mind.
DOOH is more likely to engage people who are active, such as commuters, shoppers, and socialisers. Their engagement with the ad in this active state will thus make it more likely that the brand becomes inescapable; it's marketing message engrained.
From a planning point of view the integration of DOOH and TV is flexible in deadline cut off allowing changes to marketing messages and reaction to the current market place. DOOH advertising is fast and responsive, with campaign amendments often made hourly. This affords brands the agility to optimise their advertising activity, boost campaign efficiency, and obtain last-minute deals.
What's more, campaign efficiency can be increased by integrating the targeting capabilities of TV and DOOH advertising. TV ads allow for demographic targeting, as they can be placed on niche interest channels or programming watched by a brand's target audience.
DOOH ads can be targeted in terms of location (for example, advertising outside a retail outlet to attract more customers) and time (for example, advertising by lunchtime to target commuters). Indeed, DOOH ads will serve as a perfect supplement to TV ads because they are not as easily avoided as TV ads, and will reach a wider audience.
Finally, integration heightens online response. Indeed, 74% of UK adults claim to have picked up an internet connected device during TV ad breaks This consequently leads to upsurges in brand searches and greater social media engagement. The use of DOOH will further drive this online response. According to a research project, OutPerform, by Outsmart, OOH activity drives +17% uplift in smartphone brand actions. The integration of TV and DOOH should thus generate a wider online response.
In summary, it is clear that the distinct benefits of TV ads and DOOH ads will be significantly increased when they are working together. This will create a more effective advertising strategy for the advertiser, thereby ensuring that its audience is more acutely captivated.
If you need help ensuring your marketing budget is invested on the right media platforms so you STAND OUT and get results, contact our award winning team for impartial media planning and buying expertise on [email protected] or call us on 02921 320200. #LoveMarketing
 
The Media Angel Take Home Best Advertising Campaign Award
We are delighted to announce that we have won Best Advertising Campaign at this years CIM Chartered Institute of Marketing Wales/Cymru Awards 2016 held at Portland House in Cardiff Bay on 23 November.
Our innovative advertising campaign that we implemented for National Botanic Garden of Wales was to help them increase visitor numbers and promote new attractions including The Butterfly House / Plas Pilipala. To help achieve this we developed a family focussed, integrated campaign that ran throughout summer 2016. As a result the campaign that included video, radio, online and outdoor marketing, increased family visits by 68%.
David Hardy, Head of Marketing and Communications for National Botanic Garden of Wales said: "We are delighted to have won "Best Advertising Campaign" for our Butterfly House with The Media Angel who did a fantastic job, we are still reaping the benefits of their excellent work today."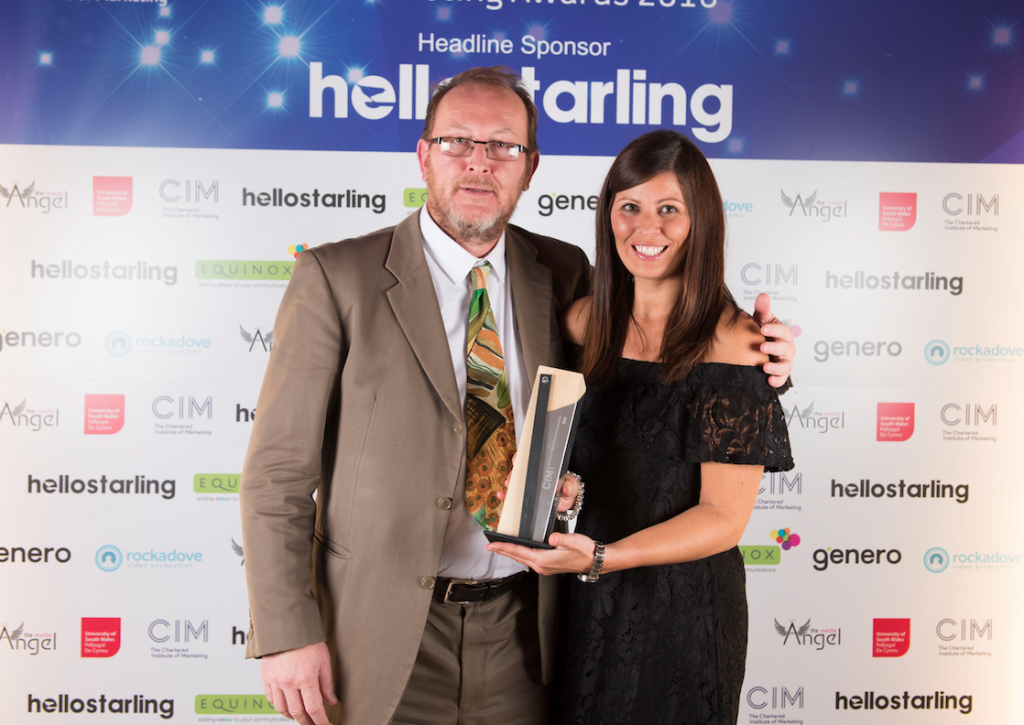 The CIM's prestigious Wales Marketing Awards highlight industry excellence and celebrate the achievements of marketing professionals in Wales. The award for "Best Advertising campaign" recognised a campaign that used striking creativity and strategic planning to reach and engage a family audience. The channels used and results delivered against the campaign objectives really impressed the judges.
On winning this accolade Managing Director Alison Debono said: "We are thrilled to have won this CIM Award. This campaign highlights that great results and a good return on investment can be achieved with limited budget, creativity and by selecting the most appropriate media mix to deliver the campaign objectives. We are beyond happy that our work has been recognised once again on a National basis"
If you would like to read more on the sucess of this campaign please click here…
If you need inspiration on implementing your next advertising campaign contact our award-winning team on 02921 320 300 or via email: [email protected]
Help your business STAND OUT from the crowd
Everyday it is estimated that we are exposed to nearly 400 marketing messages, of which only 150 are actually noticed and a lot less are recalled or make enough impact to prompt action. So how can you ensure you make yourself easily found?
1. Have a marketing strategy and review it.
Have a clear idea of what you want to achieve and a focused strategy to help drive your business forward. Is retaining and winning new customers key or is increasing sales your goal? Don't forget to review and tweak that strategy.
2. Know your customer.
Who are they? Where are they? How can you target them?
Knowing your customer helps target them at the right place at the right time and at the right cots; ultimately leading to a return in investment.
3. Know your competitors.
What are your competitor's strengths and weaknesses? How and where are they advertising? what can you do differently?
4. USP's.
Be clear of your unique selling point(s); make these part of your marketing strategy. Why should somebody choose you over your competitors? Let people know why you are the best company to come to.
5. Be consistent.
Be consistent with your messages, reiteration is key. You want your clients to recognise you instantly. Less is more.
6.Be clear.
What do you want your clients to do? Buy a ticket or product? Log on to your website? Find out more information? Call you? Tell them what to do and how to do it. Make it easy to be found.
7.Be social.
No business can afford to ignore social media; it's good for developing a two way conversation between yourself and your customer. Having social portals and an up to date website helps build credibility, brand and SEO too.
8.Take a risk.
Don't be afraid to try something different. Think outside the box. Don't assume advertising is too expensive, TV and Radio can be targeted and cost effective if used well.
9. Cost.
Don't buy an advert just because it's cheap. If your target audience does not consume that media it's a waste of money.
10. Explore.
Look at the new platforms where you can be really targeted; Video on Demand for example. You can target by area, age, demographic etc.
Contact our award winning team to ensure your marketing plans are crafted to perfection and deliver results.
Call: 02921 320 300  email: [email protected]  tweet: @themediaangel. 
National Botanic Garden of Wales increase family figures by 63%
New attractions at the National Botanic Garden of Wales (NBGOW) targeted at families with children coupled with an integrated marketing campaign across the summer has really helped drive figures.
The newly opened Butterfly House (Plas PiliPala) and other activities for children including zorbing, trampolining, a straw bale maze and large games were used in an advertising and marketing campaign that comprised of: Bus streetliners, 6 sheets and vinyls in Cardiff and Swansea; a sponsorship on Heart Radio which allowed for key messages to be broadcast to a family listenership across South and West Wales, a promotional video which was posted online on NBGOW website and also integrated into a quiz and competition on Wales Online.
These highly interactive elements online helped to bring the campaign to life, generating 444 competition entries to win family tickets to NBGOW and really made the garden a talking point through social media posts on Facebook and Twitter. These on-line elements were backed up by a campaign of skins and banners on mobile to reiterate the message to a targeted audience. This continued with a sponsorship of the "Whats On" pages on Swansea Evening Post. Combined, this all heightened NBGOW's profile as a day out attraction for families whilst maintaining and growing their more traditional visitor.
This highly visual campaign started in June and proved that a multimedia advertising campaign on a relatively small budget can really work for example.
Across July there were 30% more families with children than in July the previous year.
Overall the summer saw their figures soar from 30,308 in 2015 to 38,948 in 2016 a 28.5% increase.
Furthermore, new memberships are up by 25% over the summer in comparison to last year.
Membership total takeup was  up by 39% which is the highest takeup since 2011.
Membership renewal were up by 9%.
Facebook likes were up over 1,513 by 12%
– Head of Marketing and Communications says
"Alison and her team really made the difference and, as well as being helpful, responsive, innovative and efficient, our super summer visitor figures and all the fabulous feedback we've received, prove they are effective too. I cannot recommend them highly enough and we're already talking to them about our next campaign"
NBGOW overriding campaign objective was to target new visitors ensuring that they were seen over the summer months as a key tourist attraction; they certainly achieved this with an increase in footfall from families and new and renewed memberships being taken up.
If you need help with your marketing campaigns and want to see results, then CLICK HERE to contact our award winning team for our impartial media planning and buying expertise. #LoveMarketing
JCDecaux joins the Internet Advertising Bureau
JCDecaux has signed up as a member of the IAB UK in an "important strategic step" as it continues to transition towards more digital outdoor media.
JCDecaux are rolling out 1,000 digital bus shelter screens in London. The outdoor media giant has joined the digital advertising trade body to highlight its digital ambitions and to promote the company's role in transforming out-of-home advertising into a digital form in the UK.
JCDecaux won the Transport for London's bus shelter contract last year. The world's biggest digital street furniture rollout has experienced delays but is now about to install 1,000 new digital new screens across the Capital.
The membership will also enable JCDecaux to access the IAB's research, education and events as the company aims to upskill and attract new talent.
More than 50% of JCDecaux's revenue comes from digital based media now.
Animation / Motion + 10%
More attention for animated creative over static and film.
Best example generated +24% impact for part animated copy.
Full video loses attention and impact.
The study measures actual contacts via face – tracking.
If you are interested in incorporating outdoor advertising into your media plans, then please call one of our team today on 02921 320200.
National Botanic Garden of Wales Have Launched Their Summer Campaign
Their objective was to ensure they attract more families with children over the summer period.
With the opening of their Butterfly House (Plas Pilipala) on 1st July they were keen to promote themselves as more than just The National Botanic Garden of Wales, showcasing all they have to offer for the entire family including adventures such as zip wiring, zorbing  and a straw bale maze.
We began with their new promotional video created for use online, which does just this with fabulous images of all of their activities including their beautiful gardens and plants….It certainly entices us to go back time and again.  This is all backed up with an impactful mixed media campaign put together including interactive articles, takeovers and inventory online, outdoor advertising.
This is all backed up with an impactful mixed media campaign put together including interactive articles, takeovers and inventory online, outdoor advertising with bus, 6 sheets, and a radio sponsorship. With beautifully eye-catching visuals and repeating the key messages promoting all that they have to offer we are sure this will be a successful summer for the National Botanic Gardens Of Wales.
Outdoor 6 Sheets:
Take a look at the promotional video below in English and Welsh –  
Butterfly House – English Version
Plas Pilipala – Welsh Version
We love making our clients marketing objectives and goals a successful reality, so make sure you get in touch with us. We'll help you over deliver on your objectives and together achieve fantastic results.
The Media Angel finalists in the National CIM Excellence Awards!
We are absolutely overjoyed to announce some very exciting news.
After being the only media planning and buying agency in Wales to win an award at the CIM Canmol Welsh Marketing Excellence Awards in 2015, we have been shortlisted for a marketing award at National level!
Our outstanding work on Tŷ Hafan's legacy campaign has earned us a place as finalists at the CIM Marketing Excellence Awards 2016, which is set to take place on April 14th at London's Grosvenor House Hotel. Our work has been shortlisted alongside campaigns run by Appletizer, The Happy Egg Company, Virgin Media and O2 to name just a few!
The CIM's prestigious Marketing Excellence Awards were developed to recognise and reward brilliance in the field of marketing. Now entering its seventh year, these awards are a fantastic way to raise awareness of the creativity and originality delivered by marketers who are at the forefront of the profession. We will be proudly exhibiting their work for Tŷ Hafan, which has already been praised as "simply brilliant" by the judging panel at Canmol.
Tŷ Hafan Legacies have become a key income stream for the charity, generating around 70% of annual individual giving income over the past few years. Our team were appointed to take care of the Legacy campaign on behalf of Tŷ Hafan and devise a campaign that would help the charity raise these vital funds through pledges.
We made innovative use of both new and traditional media marketing methods including video on demand, print press and direct mail to maximise an extremely precious budget. The results were outstanding, generating returns of over 300% for the charity.
Managing Director Alison stated "We are beyond thrilled to be nominated for an award at the CIM Marketing Excellence Awards this year in London! We were over the moon with our Canmol win, and are now so excited to raise the national profile of our small but brilliant organisation and of this case study; which demonstrates what can be achieved from maximising precious budgets, selecting the most affordable and appropriate media."
"In this case, a simple mix of new digital media and more traditional, popular methods such as press raised the profile of Tŷ Hafan and their schemes for donating to impressive ends – achieving amazing over-delivery on targets. The campaign delivered an overwhelming 300% more than the proposed target and we genuinely feel this case study is an inspiration for charities nationwide. We feel this should be inspiration for other small, hardworking agencies too; we've shown that despite being a team smaller in numbers we have the aptitude and dexterity to make a huge difference".
We are also so delighted for client Swansea University who has been shortlisted for their 'Making Waves' campaign; a project we have also been heavily involved in executing.
"We couldn't be happier for the team at Swansea University for making the shortlist with us; we are super excited to celebrate with them in London on 14th April" says Alison.
We would like to wish all fellow finalists the very best of luck, and we are very much looking forward to a fantastic evening.
Thank you Swansea Council for choosing us as your agency!
What a fantastic summer it has been for The Media Angel this year! Our team has been exceptionally busy nurturing existing client campaigns and growing new client friendships across the summer months; and as we end one season into another we have a hugely exciting project to report on.
We are delighted to announce that following an exacting procurement process, The Media Angel  have been awarded the contract to be the supporting media agency  for Swansea Council's Tourism Team during this year's  campaign named 'Swansea Bay Moments'. This is an outdoor campaign that will extend into some of the UK's largest cities, including Liverpool, Manchester, Birmingham and London.
After going through the procurement process for the project, our team received the amazing news that we had been successful. Alison Debono, Managing Director at The Media Angel was delighted with the news that her team had submitted the successful bid;
"I am so very proud of my team! We have all worked extremely hard on this project, making sure we could deliver a great and successful campaign for excellent value. We really couldn't be more thrilled with this win. The team at Swansea Council have produced some award winning campaigns, and we are all very excited to be working with them".
The campaign is due to start at the beginning of October this year; and aims to invite visitors from across the UK to come and visit Swansea Bay. Visitors will be encouraged to make and share 'moments' from their Swansea Bay adventure.
Steve Hopkins,  Tourism Team Manager said "We're particularly looking forward to beginning this Autumn's campaign as we're  trialling digital video ads for the first time and can't wait to see them in action!".
We are very eager to help the council promote the message about Swansea Bay; we can't wait to get started in showing people across the UK how truly beautiful, unique and diverse Swansea Bay really is.
South Wales Fire & Rescue Service appoint The Media Angel for Summer Campaign
South Wales Fire and Rescue Service (SWFRS) and the RNLI have chosen our team at The Media Angel to help them launch their 'Get a taxi, not our boat' campaign starting this week!
The aim of this campaign is to raise awareness about the high number of accidental drowning incidents that occur throughout South Wales; particularly after victims have consumed heavy amounts of alcohol. The campaign will aim to encourage people to make their way home more safely after a night out and avoid risky areas where both fatal and non-fatal drowning incidents can occur.
The South Wales Fire and Rescue Service and the RNLI had been searching for an agency to help bring the important message about drowning prevention and water safety to the people of South Wales in a fun and engaging way while also proving to be best value after biding through the Fire and Rescue Service Procurement process.
Managing Director of The Media Angel, Alison Debono has expressed her delight at the news;
"We were thrilled to hear the news that the South Wales Fire and Rescue Service and the RNLI had decided upon us as their chosen marketing agency! I am immensely proud of my team for winning this fantastic and hugely important pitch for the Fire and Rescue Service in conjunction with the RNLI."
"We couldn't be happier about helping these two amazing services drive home their vital message about avoiding risky behaviour around water and respecting the dangers. We are excited about getting this campaign underway, and are really delighted to be working with such a fantastic team of people".
The Media and Communications team at SWFRS and the RNLI also expressed their enthusiasm about working with us, stating "We are excited about the prospect of working with the team at The Media Angel on our upcoming water awareness campaign.  The team gave an excellent pitch proposal that was great value too.  When we met them they were great; really enthusiastic and flexible to work with. We feel that this partnership will result in a superb campaign. Exciting times lie ahead!"
This fully integrated campaign begins Monday 13th July incorporating a mix of transport, outdoor, radio and online advertising to help get the message in front of youngsters during the summer. As part of the campaign the South Wales Fire and Rescue Service will also be offering individuals the chance to win a Kindle Fire HDX!
From the 13th July residents of Cardiff and the surrounding areas will be able to spot South Wales Fire and Rescue branded taxis across the city; make sure you take a picture of the taxi and tweet #getataxi to enter the competition!
The Media Angel spreads the word about Tŷ Hafan's Will Offer
Gifts left in Wills change lives. For Tŷ Hafan they are vital in providing care and support to children with short lives and their families all across South Wales.
Luca Pucella is a happy, energetic seven-year-old with an infectious laugh and wicked sense of humour. He brings lots of colour to the lives of his family and is a popular pupil at his school in Bridgend. But what makes Luca different to other boys his age is that he suffers from a rare, life-limiting condition called ROHHAD syndrome. He is the only person in Wales to suffer from the incurable condition.
We are privileged to help Tŷ Hafan support children such as Luca and his family, with their 'Write a Will' campaign to raise donations left in Wills.
Angelo, Luca's dad, said: "When Luca was first diagnosed we felt very much on our own.
"He has had a host of problems including repeated respiratory arrests. It's really difficult seeing him in intensive care and Luca has probably been in every bed in the paediatric emergency unit at Heath Hospital."
The family felt a sense of relief when they were referred to Tŷ Hafan in 2010, and have benefited greatly from the charity's support.
We helped implement their mixed-media campaign, consisting of ad inserts and editorial in highly circulated press titles, online display ads and printed pharmacy bags across South and West Wales.
The campaign promotes the 'Write a Will' offer, running between 11-22 May 2015. A team of solicitors has agreed to write Wills for Tŷ Hafan by making a suggested donation of £50 for a Simple Will, or £75 for Mirror Wills.
This important campaign is very close to our hearts, as it's our remit at The Media Angel to help charities make a difference through implementing effective and fulfilling campaigns.
We are delighted to be working with a welcoming and life-enriching charity such as Ty Hafan on their legacy campaigns.
Flybe launch 11 new routes from Cardiff Airport
At The Media Angel this month, we are super excited to be involved in the launch of Flybe from Cardiff Airport.
Flybe have chosen Cardiff Airport as their new base, bringing to Wales 11 new routes to several European destinations this summer. Cardiff is set to connect with some of Europe's most beautiful cities; including Cork, Dublin, Edinburgh, Faro, Glasgow, Munich, Milan and Paris from as little as £24.99 one way.
This is great news for Welsh residents and holidaymakers alike, who will see over half a million extra seats available from Cardiff, along with the creation of over 50 new jobs.
Lord Rowe-Beddoe, Chairman at Cardiff Airport, commented on the move, saying:
"Our customers want greater choice in routes, more frequent services and better value flights. This new Flybe base is most welcome news for our passengers as it will bring new destinations and increased services from a popular great-value airline, as well as creating opportunities to encourage more visitors to come to Wales."
Cardiff Airport is currently working with The Media Angel to launch the new Flybe routes to the people of South Wales. From 16th March an exciting, multichannel integrated launch campaign will begin to push these great value fares, and spread the word about the ever improving connectivity of Wales to the world.
Get in touch with The Media Angel for more information about multichannel advertising campaigns, and the huge potential of some fantastic marketing opportunities. Call 02921 320 300 or email [email protected]
Jonathan Davies leads ACT Apprenticeship Week campaign
This month we've been working with ACT – Wales' leading training provider on a new campaign for National Career's Week and National Apprenticeship Week.
ACT was keen to promote its fantastic apprenticeships schemes and services to businesses across South Wales, and wanted to raise awareness of the countless advantages that come with training an apprentice.
We at The Media Angel were delighted to be involved in the planning, buying and implementation of this inspiring campaign, particularly as ACT's services not only provide life changing opportunities for apprentices; but also gives businesses the unique chance to train a skilled and valuable workforce. We focused on highly targeted and creative digital methods to place this important message in front of the right people, at the right time, cost-effectively.
It seemed we were not the only ones left impressed by ACT's wealth of fantastic, motivational services as skills ambassador Jonathan Davies was eager to support this digitally led campaign. His message was simple; "help us in our mission to train a nation, improve your business and become socially responsible. With 100% funding available, apprenticeships make sense".
ACT's marketing and PR manager Jayne McGill was extremely pleased with this employer engagement campaign and and collaboration of our two marketing teams, commenting:
"The Media Angel responded excellently to the brief and came up with a range of targeted solutions within the budget. From the initial consultation, all the way through to campaign delivery, their level of service and communication was top class. We have formed a great working relationship with the team and can speak honestly and openly about ideas in the development stages. Not only are they experts in their field, but Alison and Megan are extremely hard-working, proactive, creative and a pleasure to work with".
To find out more about ACT's huge range of services for every business visit their website www.acttraining.org.uk.