Future Measurement of TV and Video
As an advertising agency we recognise how imperative reportable measurement of our clients campaigns are. Whilst this can be highly measured in detail in some media it is less available in others so we are interested to see (according to The Drum 2022) that the Incorporated Society of British Advertisers (Isba) have been addressing a project for cross-media measurement. This encompasses TV and digital, helping marketers to understand performance as video appears across multiple platforms including social, and linear TV.
As brands and agencies have struggled with the lack of a common measurement approach (made more complex with multi screen usage), Isba's "origin" will help present an accurate estimate of campaign reach across multiple platforms. This model proposes to understand how many times consumers may view adverts across different devices using a Virtual ID Model.
This model was tested by implementing panel-based TV data into the system, then applying the model across TV and digital, consolidating "apples and oranges" for a clearer view of campaign performance.
Isba said: "Performance in both tests exceeded our expectations."
With verification from the World Federation of Advertisers (WFA), it can now look to roll out the scheme.
Speaking to The Drum, Joe Lewis, Origin research director, underlined the importance of the project: "True cross media measurement will drive benefit to consumers through a better experience of advertising and better value for advertisers through improved effectiveness and efficiency in the media marketplace. Without it, marketers are not able to truly evaluate their marketing activity."
Though the project is unlikely to be rolled out until 2024, we are looking forward to being able to deliver to our clients a more in depth analysis of their campaigns across Linear Tv and digital.
Making the most out of outdoor digital advertising
Digital outdoor advertising (DOOH) is much more than just a screen which enables movement, but what are some ways your campaign can utilise dynamic technologies?
Recently, Pirinase used weather data to help their campaign promoting their hay fever relief spray. The campaign is activated when the MET Office pollen count reaches 'high' or 'very high.' This ensures the campaign reaches hay fever sufferers at times when they need relief.
Another example of using weather data is B&Q's long-running campaign. Their creative pushes summer products when the weather is good, ensuring relevance to the weather.
Outdoor advertising can also be geo-fenced, allowing passers-by to be targeted. Econsultancy reported that "O2 partnered with Dax and Mobsta to log device IDs (via Bluetooth) when people pass an out-of-home (OOH) site. These IDs were then used to see if a particular user subsequently visited an O2 store, where their device ID would be tracked."
O2's campaign for the Samsung S8 handset also used geofencing to target ads on digital radio, Soundcloud and Deezers at people within 500m of the OOH site.
Digital advertising can also utilise travel data, such as flights times, drive times or sports data. We particularly like how Guinness used it during the Six Nation's.
The creative alerted people to an upcoming match and its kick-off time, as well as the distance to the local pub.
Participating pubs then used sensors to capture footfall data and, if they got too full, would trigger a change in creative to direct fans to alternative venues.
Could your campaign use dynamic data? Get in touch today.
Sources: https://www.jcdecaux.co.uk/news/pirinases-powerful-pollen-counting-ooh-campaign , https://econsultancy.com/six-clever-examples-of-what-dynamic-outdoor-advertising-can-do/
Piccadilly Circus billboards to be bigger and brighter than ever
After nine months in darkness, the digital billboards in London's Piccadilly Circus are about to come back bigger and brighter than ever before.
Later this month, a new 790-square-metre behemoth of a screen will flash into life for the first time. The screen, which is larger than three tennis courts, packs in almost 11 million pixels at a resolution that's greater than 4K. The display is the largest of its kind in Europe.
More insights
Cameras concealed within the screen will track the make, model and colour of passing cars to deliver more targeted adverts. Brands can even pre-program triggers so that specific adverts are played when a certain model of car passes the screen, according to Landsec, the company the owns the screens.
More flexibility
The giant screen replaces six separate screens that previously wrapped around the buildings at Piccadilly Circus, each one dedicated to a different brand. "This screen can be electronically carved up as opposed to having individual screens," says Landsec portfolio director Vasiliki Arvaniti.
This also means that the entire screen can be taken up by a single advert – something that had been tried on earlier versions of the display, but didn't really work with six screens of different sizes, made by different manufacturers.
"For the first time ever brands will have the opportunity to take over the entire screen," Arvaniti says. Every ten minutes a single brand will fill the entire screen with a single advert for 30 seconds. Coca-Cola, Hyundai, Samsung and L'Oréal will be the first brands to share the supersize screen.

Most of the time, however, the screen will be divided into six separate chunks that can each stream live video, social media feeds and sports results. The hope, says Arvaniti, is that brands will create adverts that people can interact with in real time, and can respond to changes in the weather.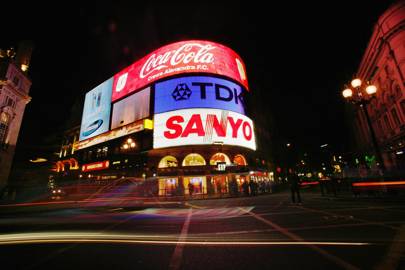 The illuminated advertising hoardings have been part of Piccadilly Circus since 1908, when bottled water brand Perrier first installed a sign. The original light bulbs were replaced by neon signs later in the century, which were in turn replaced by digital projectors in 1998.
More colour
Now the LED display reigns supreme. The new screen can produce more than 281 trillion different colours and each pixel is 8 mm from its nearest neighbour, giving the screen a resolution that's equivalent to a TV screen more than 1000 inches wide.
Landsec won't say when exactly it's planning on switching on the screen for the first time as it doesn't want to cause overcrowding in the West End. When the screen does finally flicker into life, however, it'll also provide free public Wi-Fi to people in the area.
That giveaway isn't entirely altruistic, however. The big screen advertisers will be also sponsor the Wi-Fi landing page, so getting away from those adverts just got a little bit trickier.
Want to see your brand on the Piccadilly Lights?
Source: https://www.wired.co.uk/article/piccadilly-circus-new-massive-advertising-screen
UK government to hit Facebook, Google and Amazon with digital services tax
The government will soon impose a 'digital services tax' on UK revenues generated by "established tech giants" like Facebook, Google and Amazon.
The 2% levy was announced by chancellor Philip Hammond in the Autumn budget today (29 October). It will come into force in 2020 following a period of consultation.
The announcement follows on from heavy criticism about the amount of tax tech behemoths pay to the treasury. In most instances they are gleaned from ad revenues – in comparison to their UK profit.
How much tax do tech giants pay?
Facebook UK revenues: £1.26bn Tax: £15.8m (2017)
Amazon UK revenues: £72m Tax: £4.5m (2017)
Google UK revenues: £1bn Tax: £36.4m (2016)
Snapchat UK revenues: £26m Tax: £360K (15 months to Dec 2016)
Twitter UK revenues: £76m Tax: £1.2m (2015)
Without going into detail, Hammond said the levy wouldn't apply to "small UK startups." But instead be targeted at profitable digital services companies that generate "at least £500m a year in global revenue".
Kill or cure? 
Ahead of the announcement, IAB chief executive Jon Mew argued that such a levy risked harming the UK digital ad market.
"While the government has said it wants to focus new measures on larger businesses, it would be difficult to avoid collateral damage across the sector and a negative effect on competition," Mew warned.
"A tax on revenue would create a disincentive for competitors to set up and grow in the UK market. And would impact on mid-market players who drive competition and provide choice."
Mew suggested that if the government was truly committed to leading the charge on innovation-friendly regulation that supports the growth of the tech sector then it should focus on supporting efforts to accelerate the EU Commission and OECD process to agree to an international approach to digital taxation.
Source: The Drum 
InLinks go live in Cardiff
InLinks launch in Cardiff: the second Welsh city to benefit from free ultrafast Wi-Fi and phone calls.
Cardiff joins Swansea as the second Welsh city to benefit from free InLinks, which already have more than 215,000 subscribers across the UK.
The first three dual-language InLinks have been activated in the city, providing ultrafast Wi-Fi speeds of up to one gigabit per second (1Gbps), the fastest free public Wi-Fi service available in the UK.
The first of the fully-accessible InLinks have recently gone live on Queen Street, St Mary Street and Bridge Street, with further activations expected in the coming weeks. With the roll-out of the first three InLinks in Cardiff brands have access to a busy high street audience.
Not only do 77% of consumers agree InLinks have a positive impact on their communities, our research has shown that 75% of them feel more positively about brands that sponsor services such as Wi-Fi, charging locations and travel information.
The UK rollout has so far seen more than 522 screens installed in Swansea, Manchester, Birmingham, Leeds, Gateshead, Glasgow, Southampton, Newcastle and Sheffield, as well as nine London boroughs; with hundreds more to be installed in key towns and cities across the UK.
Since the first InLink was launched in June last year, more than 215,000 people have subscribed to the service's free Wi-Fi, using enough data to download the equivalent of more than 24.7 million songs. The InLinks have saved people more than £980,000 in free calls, with 50,000 calls being made on average every week across the UK.
The InLinks also provide free phone calls to UK landlines and mobiles, rapid mobile device charging, the BT Phone Book app, as well as easy access to charity helplines.
InLinkUK and its partner BT have worked closely with stakeholders in Wales to ensure that the new InLinks will support both Welsh and English languages, with both the screens and the tablet showcasing dual language information at launch. 
Cardiff's local community are also benefiting from the InLink's digital screens that display real-time information, including local events and interesting facts, as well as community messaging.
Adrian Field, Executive Director, for Cardiff BID added, "We are delighted that Cardiff will benefit from the installation of InLinks to help improve the aesthetics of an area, safety, and promoting key messages. It allows those in the city centre to have the means to make their visit an even better experience. We expect them to be widely embraced by visitors, residents and employees." 
Source: Primesight
Global to acquire Exterion Media
Radio group Global has made a binding offer to acquire Exterion Media just weeks after snapping up fellow OOH (out-of-home) companies Primesight and Outdoor Plus in a double deal.
The purchase will help the media organisation bulk up its newly-formed OOH division, Global Outdoor.
In the UK, Exterion boasts an estimated 20% share in the sector. They hold the lucrative £1.1bn Transport for London (TfL) advertising contract for the London Underground and rail networks.
Current chief executive Leon Taviansky will transition with the business to Global Outdoor, which it has been announced will be overseen by Stephen Miron, Global's group chief executive.
Miron said the acquisition complemented its two most recent buys.
"The incredibly positive reaction we have had to the news of our entrance into the OOH sector only reaffirms our belief and excitement about the opportunities within the outdoor market," he said.
"Exterion has a great track record in the UK and across Europe and we look forward to working with the team to develop the business further."
'Heavily investing' in digital sites
The LBC, Heart and Smooth Radio owner now has three prime OOH estates that will help it flex its muscle against giants like JCDecaux and Clear Channel.
Global previously suggested that digital OOH will become an increasingly important part of its business, saying it would "heavily invest" across Primesight and Outdoor Plus' portfolio to up the number of digital sites it owned.
On the radio side, Global has already doubled down on programmatic with its audio exchange platform DAX.
The 'perfect fit'
Exterion is also responsible for the OOH inventory across the other three metro systems in the UK: Newcastle, Liverpool and Glasgow.
The company claims to be the largest supplier of bus side advertising in the UK, and Global said its "transport focussed assets" would serve as a "perfect" complement to the portfolio it scooped up in the Primesight and Outdoor Plus deal, adding transport to its "existing, mostly roadside business."
Primesight has an OOH ad estate of billboards and display panels that covers more than 35,000 sites in the UK, claiming to reach 95% of the population.
Outdoor Plus, meanwhile, owns a multitude of premium digital ad sites nationwide, especially in London where it owns the space at the Hammersmith Towers and Euston Underpass.
Global's most recent purchase will have a far-reaching impact on the OOH industry for both competitors and brands.
Source: The Drum
How can we help you incorporate outdoor or digital advertising into your marketing? 
JCDecaux wins contract for the two largest UK shopping malls
JCDecaux announces that it has won the contract for the in centre advertising at Westfield London and Westfield Stratford City.
They are the premium retail, shopping and leisure destinations in London. Ranked number one and two for mall retail spend in the UK. The contract follows a competitive tender and is for a term of 8.5 years. 

They will take over the contract in November and will manage internal advertising opportunities across the two malls, comprising 180 screens in a 100% digital environment.
With the addition of Westfield London and Westfield Stratford City, their portfolio will now cover all 25 of London's top retail zones (source CACI). Westfield London and Westfield Stratford City deliver 52 million digital weekly viewed impressions (source: Route 27).
"JCDecaux's expertise in selling the London and international luxury audience means they are ideally placed to share our vision for the Westfield London and Westfield Stratford City advertising portfolio. JCDecaux brings the scale, digital expertise and data insight to understand our audience and to develop our offer further. This partnership with JCDecaux will give advertisers a new opportunity to reach influential and affluent audiences at multiple touchpoints in London and will benefit Westfield shoppers with relevant and engaging advertising content on the screens."

Paul Buttigieg, Director of Commercial Partnerships, Shopping Centre Management, Unibail-Rodamco-Westfield
"This win cements JCDecaux's position as the number one in mall advertising in the UK and the leading provider of digital screens in all the major retail areas of London. Westfield centres offer a premium proposition with premium retailers and a premium audience and the new digital screens will make it a powerful proposition for advertisers and their brands."

Jean-François Decaux, Co-Chief Executive Officer of JCDecaux
Adshel Live becomes UK's largest DOOH network
Clear Channel UK's Adshel Live becomes the largest digital out-of-home network in the UK.
Over 1,500 digital roadside 6-sheet screens. Located in busy retail and leisure hotspots in major towns and cities including London, Birmingham, Bristol, Glasgow and Liverpool.
This premium network is primed to influence consumer spend and deliver Activation campaigns at scale. Fitted with the latest digital and mobile technology. Adshel Live provides endless flexible planning and creative opportunities for brands to find the audience moments that matter.
72" HD, sun light visible screens
Flexibility to run day and day-part specific activity
Technology enables multiple copy updates and location, time and data-driven dynamic content
Features mobile connectivity including Beacon technology
How can Adshel work for you?
How are people using media in 2018?
Attest's media consumption report 2018 is a survey of 1,000 people taken in July 2018 to compile a report on the habits of UK consumers. What's their verdict on some of the biggest platforms?
Television 
86.8% of Brits report watching more than one hour of television every day, a rise from 82% in 2017.
When it comes to streamed and on-demand television, use has risen dramatically since 2017.
Women tend to watch more streamed television than men, with 75.7% of female respondents tuning in for at least one hour per day, versus 64.1% of men.
Londoners are more likely to tune into Netflix, Amazon Prime or similar for 1-2 hours every day (47.7%)
The ITV Hub app ranked as the second most downloaded iPhone app of May 2018.
Music Streaming
The most popular paid-for music streaming service is Spotify (35.1%).
However, Apple Music (27%), Youtube (25.3%) and Amazon Music (19.7%) are close behind.
News Media
Younger generations seem to be more interested in newspapers than older generations, with 37.7% of those aged over 40 admitting they do not read a printed newspaper on a regular basis, compared to just 23.2% of under 40s.
Magazines
Digital Media
Digital advertising grew at its fastest rate for nine years in 2016. But how are consumers using social media?
Source: Attest Media Consumption
If you want to make sure you're using your marketing budget to its full potential, then give our team a call on 02921 320 200 or email at [email protected]
Swansea's going digital!
Swansea has become the first Welsh city to benefit from free ultrafast wi-fi and phone calls
The free 'InLinkUK from BT' service, which already has more than 148,000 subscribers across the UK, has just found its first home in Wales, in the heart of Swansea.
This latest city launch brings exciting new opportunities for brands to target consumers in some of Swansea's busiest areas.
The first 11 InLinks have been installed in and around Swansea's city centre and will provide ultrafast wi-fi speeds of up to one gigabit per second (1Gbps), the fastest free public Wi-Fi service available in the UK. The InLinks also provide free phone calls to UK landlines and mobiles, rapid mobile device charging, the BT Phone Book app, as well as easy access to charity helplines.
The first of the fully-accessible InLinks have recently gone live on Princess Way and Castle Street, with further activations expected in the coming weeks. 
Since the first InLink was launched in June last year, they have saved people more than £660,000 in free calls, with 50,000 calls being made on average every week across the UK.

Swansea Council leader Cllr Rob Stewart said: "This is great news for the public and local businesses. The exciting addition of the InLinks – with their free high-speed public Wi-Fi to Swansea's streets matches perfectly our ongoing work to transform the city centre into a vibrant and bustling location for business, leisure and living. We want to increase the number of people working and living in Swansea – and our InLink network will be a big help."

"Digital ambition is at the forefront of what we plan for our new city centre. The Kingsway will become a thriving digital district as we start to deliver projects that are due to be part-funded by a £1.3bn Swansea Bay City Deal – and plans are progressing well for the city's 3,500-capacity digital arena."
Finally, and particular to the roll-out in Wales, BT, InLinkUK and Primesight have worked closely with local stakeholders to ensure that the new InLinks will support both Welsh and English languages, with the screens showcasing dual language community information at launch (with the tablet to follow shortly).
Source: Primesight
Want to know more about how digital advertising can work for you?
Give our team an email at [email protected]
Digital has helped UK ad spend bounce back from two-year low
Investment in digital has helped wider UK ad spend rebound from a two-year low.
According to the latest Bellwether report from the Institute of Practitioners in Advertising (IPA), 23% of marketers said they had higher spending plans for overall marketing activity in the second quarter of the year. Elsewhere, 17% said they had lowered budgets, which results in a net balance of +6.5%.
The figure was an increase in the 5% net score reported in Q1 of 2018, which had been the lowest since Q1 2016, however despite some signs of a bounce back it's still the second lowest reading to have come back in the past two years.
The IPA's quarterly report, which features original data drawn from a panel of around 300 UK marketing professionals from the UK's top 1000, firms has also upwardly revised its UK ad spend forecast for 2018 – increasing it to around 1.1% from its prediction of 0.8% last quarter.
UK marketers were found to have revised their internet budgets up to their joint strongest levels in over a decade. A net balance of 22.7% of marketers reported upward revisions to their digital budgets. The level is not only up from Q1's reading of 8.7%, but is also the highest it's been since Q3 2007.
Main media advertising – which includes TV, radio and cinema – also showed more bullish growth than last quarter. While still not as high as digital the net balance was positive overall with 4.9% of marketers saying they were upping spend in these mediums.
Source: The Drum
If you want to make sure your using your marketing budget to its full potential then
give our team a call on 02921 320 200 or email at

[email protected]
Rajar Q4 2017. Who are the winners and losers?
The last quarter of 2017 Rajar results are out, illustrating a North V South success story in Wales.
North Wales has had a great performance with Heart North Wales up in reach and listening hours, Smooth North West and Wales has seen it's reach increase by 13%.
Heart South Wales is down in reach and listening hours, although still holds the top spot with a 416,000 reach compared to Capital the next with a reach of 171,000.
Unfortunately Smooth South Wales didn't have a good book, losing 38% of it's audience and 33% of it's hours!
Dragon Radio Wales has had it's sixth successful Rajar results with a steady increase in reach up 50% this quarter and 80% up from the last quarter of 2016, with 27,000 listeners.
The independent station forerunner this quarter is Swansea Sound. On average its listeners now tune in for 10.7 hours per week, which has helped grow its hours by a whopping 50%.
UK Wide
Nationally, the Capital network is the second highest reaching network popular with a young and engaged audience. Overall, heart has had a good quarter in total listening hours, with Heart South West increasing it's weekly audience figure to 391,000, up 6%
Digital radio share of listening is up by 1.1% to 49.9%. Commercially, digital share has risen to 51.6% compared to BBC's 48.3%. This could be down to on-line and app listening as 26% of adults listen to radio via a mobile phone or tablet at least once a month.
In summary, Commercial radio continues to fulfil advertisers requirements for consistent performance and ROI. 90% of the population listen to radio, getting up close and personal for an average of 21.3 hours per week. With a broad diversity of listeners, radio still maintains it's ability to deliver to wide audiences with a strong trust in the media.
If you want to include radio into your media mix or aren't sure if you are using the right station(s) to deliver your campaign objectives then get in touch with us at The Media Angel. We're here to offer impartial media guidance to ensure the best ROI on your marketing campaigns. standout@themediaangel  tel 02921 320200. #LoveMarketing.