The Media Angel recognised at the Drum Marketing Awards 2019
We are thrilled to announce that we received 'Highly Commended' at last night's Drum Marketing Awards 2019.
We were the only Welsh agency shortlisted under 'Media Planning or Buying' and 'Advertising Campaign' both for our work with Swansea University for their June Open Day Campaign 2018. The campaign generated a 30% increase in Open Day registrations in 2018 exceeding the 10% target, over delivering by 200%.
The Drum Marketing awards celebrate the best marketers and campaigns both nationally and internationally. Open to advertising agencies, in-house marketing teams, design consultancies, digital agencies, PR companies and integrated agencies we are pleased to represent Wales against some of UK's largest brands and agencies.
In the 'Advertising' category we were nominated alongside campaigns for Vodaphone, Swinton Insurance, Sky Betting & Gaming, Samsung and WaterAid. In the 'Media Planning or Buying' category we were nominated alongside Fox Sports for the Fifa World Cup 2018 and Volkswagen UK.
The Awards
The awards ceremony was held last night in the Park Plaza Westminster Bridge Hotel in London, and what a night!
The atmosphere and hotel looked amazing, and it was great to see our work and company recognised alongside huge brands like Volkswagen, Vodafone, FOX Sports, WaterAid, Disney, Greggs and Samsung to name a few.
We are so pleased to say that we received 'Highly Commended' for our work in the 'Media Planning or Buying' category.
Congratulations to all the winners and finalists!
Read more about our entry here.
If you need help with your media planning and buying, contact our award-winning team here.
Commuters contribute £22.8bn to the UK economy per year
Average weekly spend of UK commuter is £89, amounting to 14% of annual online sales.
A major report into commuters' spending habits, conducted by leading Out-of-Home (OOH) media agency Kinetic and OOH media owner Exterion Media, in partnership with the Centre for Business and Economics Research (Cebr), has revealed that the value of commuter commerce to the UK economy is £22.8 billion per year. In total, this amounts to 14% of annual online spending in the UK.
Spend calculated in this latest report includes both products and services purchased via mobile whilst on the move, ranging from clothing to insurance. Across the UK, the typical weekly spend for commuters amounts to £89, rising to £153 a week for commuters in London. Nearly half (43%) of commuters nationally said they made a purchase whilst commuting at least four times a month.
In all regions surveyed, clothing was the most popular purchase, with 76% of those surveyed saying they'd purchased clothes in the past year on their commute. This was followed closely by purchases in health and beauty (71%), activities (69%), and grocery shopping (65%).
The research also uncovered that 70% of commuters have made a purchase as a result of advertising seen on their journeys.
Commuters responded (23% based in London, 18% rest of the UK) that outdoor advertising seen on their commute often reminded them to shop, proving the power of OOH advertising as a significant driving force behind purchases. It also highlights the link between online and offline commerce facilitated by smartphones.
If you are interested to see how OOH advertising can help as part of your marketing plans  contact our team at 

[email protected]

or 02921 320200.
Source: https://www.exterionmedia.com/uk/about-us/latest-news/news/commuters-contribute-to-the-uk-economy

Piccadilly Circus billboards to be bigger and brighter than ever
After nine months in darkness, the digital billboards in London's Piccadilly Circus are about to come back bigger and brighter than ever before.
Later this month, a new 790-square-metre behemoth of a screen will flash into life for the first time. The screen, which is larger than three tennis courts, packs in almost 11 million pixels at a resolution that's greater than 4K. The display is the largest of its kind in Europe.
More insights
Cameras concealed within the screen will track the make, model and colour of passing cars to deliver more targeted adverts. Brands can even pre-program triggers so that specific adverts are played when a certain model of car passes the screen, according to Landsec, the company the owns the screens.
More flexibility
The giant screen replaces six separate screens that previously wrapped around the buildings at Piccadilly Circus, each one dedicated to a different brand. "This screen can be electronically carved up as opposed to having individual screens," says Landsec portfolio director Vasiliki Arvaniti.
This also means that the entire screen can be taken up by a single advert – something that had been tried on earlier versions of the display, but didn't really work with six screens of different sizes, made by different manufacturers.
"For the first time ever brands will have the opportunity to take over the entire screen," Arvaniti says. Every ten minutes a single brand will fill the entire screen with a single advert for 30 seconds. Coca-Cola, Hyundai, Samsung and L'Oréal will be the first brands to share the supersize screen.

Most of the time, however, the screen will be divided into six separate chunks that can each stream live video, social media feeds and sports results. The hope, says Arvaniti, is that brands will create adverts that people can interact with in real time, and can respond to changes in the weather.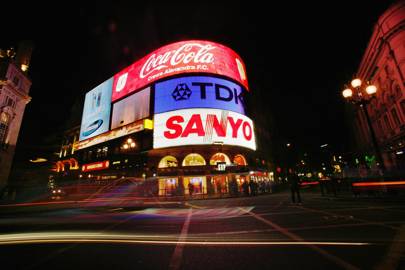 The illuminated advertising hoardings have been part of Piccadilly Circus since 1908, when bottled water brand Perrier first installed a sign. The original light bulbs were replaced by neon signs later in the century, which were in turn replaced by digital projectors in 1998.
More colour
Now the LED display reigns supreme. The new screen can produce more than 281 trillion different colours and each pixel is 8 mm from its nearest neighbour, giving the screen a resolution that's equivalent to a TV screen more than 1000 inches wide.
Landsec won't say when exactly it's planning on switching on the screen for the first time as it doesn't want to cause overcrowding in the West End. When the screen does finally flicker into life, however, it'll also provide free public Wi-Fi to people in the area.
That giveaway isn't entirely altruistic, however. The big screen advertisers will be also sponsor the Wi-Fi landing page, so getting away from those adverts just got a little bit trickier.
Want to see your brand on the Piccadilly Lights?
Source: https://www.wired.co.uk/article/piccadilly-circus-new-massive-advertising-screen
JCDecaux wins contract for the two largest UK shopping malls
JCDecaux announces that it has won the contract for the in centre advertising at Westfield London and Westfield Stratford City.
They are the premium retail, shopping and leisure destinations in London. Ranked number one and two for mall retail spend in the UK. The contract follows a competitive tender and is for a term of 8.5 years. 

They will take over the contract in November and will manage internal advertising opportunities across the two malls, comprising 180 screens in a 100% digital environment.
With the addition of Westfield London and Westfield Stratford City, their portfolio will now cover all 25 of London's top retail zones (source CACI). Westfield London and Westfield Stratford City deliver 52 million digital weekly viewed impressions (source: Route 27).
"JCDecaux's expertise in selling the London and international luxury audience means they are ideally placed to share our vision for the Westfield London and Westfield Stratford City advertising portfolio. JCDecaux brings the scale, digital expertise and data insight to understand our audience and to develop our offer further. This partnership with JCDecaux will give advertisers a new opportunity to reach influential and affluent audiences at multiple touchpoints in London and will benefit Westfield shoppers with relevant and engaging advertising content on the screens."

Paul Buttigieg, Director of Commercial Partnerships, Shopping Centre Management, Unibail-Rodamco-Westfield
"This win cements JCDecaux's position as the number one in mall advertising in the UK and the leading provider of digital screens in all the major retail areas of London. Westfield centres offer a premium proposition with premium retailers and a premium audience and the new digital screens will make it a powerful proposition for advertisers and their brands."

Jean-François Decaux, Co-Chief Executive Officer of JCDecaux
The Media Angel's Top 6 Adverts From The London Olympics 2012
As the Rio 2016 Olympics start tomorrow, we thought this would be a good a time as any to share our top 6 adverts from the London Olympics 2012.
If you haven't already got the Olympics buzz this should do the trick.
Our top 6 London Olympics 2012 adverts.
#6 Samsung – Are you ready?
https://www.youtube.com/watch?v=Coevypsk5rA
Cheil Worldwide launched this 'Are you ready?' ad for Olympic sponsor Samsung in support of its Galaxy S3 model across 20 countries this week. Olympics ambassador David Beckham signals the start of the event by kicking a ball against a gong in an impressive long-range shot.
#5 British Airways – London Calling
British Airways has launched its Olympic advert as anticipation builds ahead of the Games. It features one of BA's jets strolling through London and showcasing landmarks such as Trafalgar Square and the Palace of Westminster, before taking in the Olympic Stadium in Stratford. Best of all though, it is set to the soundtrack of The Clash's London Calling
#4 Coca-Cola – Move to the Beat
Mother London, Mark Ronson and Coca-Cola traveled the world to create a new dance track using the sounds of sport from 5 Olympic hopefuls.
#3 OMEGA – Start Me Up
https://www.youtube.com/watch?v=QSRXCVfJAOE
A remix of The Rolling Stones' 'Start me up' sets the pace for this commercial with the same title for Omega, the official timekeeper of the Olympics 2012. The ad lingers on the moments right before the start of a race or event, the tension felt by the athletes as they hone their focus for the task ahead.
#2 Nike – Find Your Greatness
Nike does it again. Now famous for its ambush marketing tactics around major global sporting events, the sports apparel giant launched 'Find your greatness' in 25 countries yesterday to coincide with the opening ceremony. Cleverly avoiding any mention of London 2012 and the Olympic rings, the ad features places across the world with 'London' in their names, along with local everyday athletes enjoying their sports. The ad was created by Nike's long-term agency partner Wieden + Kennedy.
#1 Procter & Gamble – Best Job
Arguably the most memorable Olympics 2012 ad, Procter & Gamble champions mums in this commercial titled 'Best job'. The tear jerker, created by Wieden + Kennedy Portland, follows four child athletes on their path to the London Olympic Games, supported, cared for and encouraged by their mothers every step of the way.
The Media Angel finalists in the National CIM Excellence Awards!
We are absolutely overjoyed to announce some very exciting news.
After being the only media planning and buying agency in Wales to win an award at the CIM Canmol Welsh Marketing Excellence Awards in 2015, we have been shortlisted for a marketing award at National level!
Our outstanding work on Tŷ Hafan's legacy campaign has earned us a place as finalists at the CIM Marketing Excellence Awards 2016, which is set to take place on April 14th at London's Grosvenor House Hotel. Our work has been shortlisted alongside campaigns run by Appletizer, The Happy Egg Company, Virgin Media and O2 to name just a few!
The CIM's prestigious Marketing Excellence Awards were developed to recognise and reward brilliance in the field of marketing. Now entering its seventh year, these awards are a fantastic way to raise awareness of the creativity and originality delivered by marketers who are at the forefront of the profession. We will be proudly exhibiting their work for Tŷ Hafan, which has already been praised as "simply brilliant" by the judging panel at Canmol.
Tŷ Hafan Legacies have become a key income stream for the charity, generating around 70% of annual individual giving income over the past few years. Our team were appointed to take care of the Legacy campaign on behalf of Tŷ Hafan and devise a campaign that would help the charity raise these vital funds through pledges.
We made innovative use of both new and traditional media marketing methods including video on demand, print press and direct mail to maximise an extremely precious budget. The results were outstanding, generating returns of over 300% for the charity.
Managing Director Alison stated "We are beyond thrilled to be nominated for an award at the CIM Marketing Excellence Awards this year in London! We were over the moon with our Canmol win, and are now so excited to raise the national profile of our small but brilliant organisation and of this case study; which demonstrates what can be achieved from maximising precious budgets, selecting the most affordable and appropriate media."
"In this case, a simple mix of new digital media and more traditional, popular methods such as press raised the profile of Tŷ Hafan and their schemes for donating to impressive ends – achieving amazing over-delivery on targets. The campaign delivered an overwhelming 300% more than the proposed target and we genuinely feel this case study is an inspiration for charities nationwide. We feel this should be inspiration for other small, hardworking agencies too; we've shown that despite being a team smaller in numbers we have the aptitude and dexterity to make a huge difference".
We are also so delighted for client Swansea University who has been shortlisted for their 'Making Waves' campaign; a project we have also been heavily involved in executing.
"We couldn't be happier for the team at Swansea University for making the shortlist with us; we are super excited to celebrate with them in London on 14th April" says Alison.
We would like to wish all fellow finalists the very best of luck, and we are very much looking forward to a fantastic evening.