1 Million Brits have cancelled subscriptions to streaming services such as Netflix and Amazon Prime
The cost of Living crisis is having an effect on TV viewing consumption. Reports indicate that almost one million Brits have cancelled their subscriptions to streaming services including Netflix, Amazon Prime Video and Disney+ so far this year.
According to London analytics firm Kantar, the number of UK homes with at least one paid-for video subscription fell by 937,000 between January and September. This is partly due to reducing outgoings to help pay for energy and food and partly due to "content fatigue" – an overwhelming amount of choice in content available.
Between July and September 2022, the number of British households subscribed to at least one video streaming service fell to 16.18 million – a drop of 234,000 compared to the quarter prior (April to June).
Despite being the world's biggest streaming service, in the UK, Netflix took just a 2.1 per cent share of new subscribers from July and September.
This was less than Prime Video (29.4 per cent), Paramount+ (24.6 per cent), Disney+ (17.5 per cent), Apple TV (3.4 per cent) and more.
We've previously touched on the news that Netflix has announced that it will be introducing a new ad-supported tier which will be launched in November at the cost of £4.99, this will be partly to benefit from ad revenue and partly to attract new subscribers for less cost and to void more cancellations. This Basic package will show an average of four to five minutes of adverts per hour, with each advert 15 or 30 seconds in length.
However the arrival of Paramount+ in the UK has actually seen an increase in the number of video-on-demand subscriptions in the UK rising to 28.2 million.
According to Kantar, Paramount+ enjoyed a successful launch and is already the fifth-largest video-on-demand service in the country, higher than both Discovery+ and AppleTV+.
Overall, more than five million UK homes still have the three most globally popular video streaming services – Netflix, Prime Video and Disney+.
It will be interesting to see how the battle of subscription channels continues over the coming months and what this will mean for linear TV channels as these audiences will likely increase. This in turn will benefit brands advertising on linear TV.
If you are thinking about advertising to large audiences on TV please contact our experienced team.
Will Disney+ be able to disrupt Netflix?
Disney+ is set to launch in the UK on 31st March 2020, does this spell the end for Netflix domination of the streaming market?
According to a survey by Audience Project, 26% of Brits plan to subscribe to Disney+ when it launches.
Of those, 37% plan to cancel other subscriptions to balance the cost.
Over three in 10 claimed Netflix will be the service they drop. Almost a quarter will ditch Amazon Prime, while 17% said Sky's Now TV.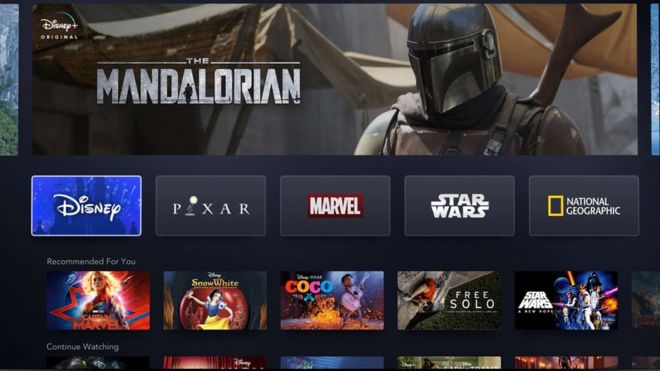 "The entrance of Disney+ into the battleground of UK streaming services is set to radically change the state of play," said Rune Werliin, chief product officer at AudienceProject.
"Netflix's reign could be in question, as thousands of UK consumers consider switching from its service to Disney+. By this time next year, we could be looking at a very different picture when it comes to digital TV subscriptions and usage."
Netflix is currently the most popular streaming service in the UK, used by 75% of the country. BBC iPlayer follows at 60%, and Amazon Prime is used by 50%.
Will you be changing your streaming platforms in 2020? Video-on-demand advertising captures an engaged audience, get your brand seen amongst shows like Love Island, First Dates, Big Little Lies and more.
Sources https://www.bbc.co.uk/news/entertainment-arts-50344494 https://mediatel.co.uk/newsline/2019/11/19/future-disney-users-plan-to-ditch-netflix/
Streaming catching up to traditional TV viewing
Streaming is catching up, but watching programmes on a TV is still the most popular way for UK audiences to watch television.
Traditional viewing (which includes catch-up within 28 days), accounts for most TV viewing with an average of 3 hours and 12 minutes per day.
However, this does mark a drop of 11 minutes since 2017, and average viewing of streaming services rose to 26 minutes per day last year.
Netflix, Amazon Prime Video, Now TV…?
The most popular subscription video on demand (SVoD) platforms in the UK are;
Netflix,
Amazon Prime Video,
Now TV and
Disney Life
The number of UK households signed up to these platforms increased from 39% (11.2 million) in 2018 to 47% (13.3 million) in 2019. Two in five UK adults now consider online video services their main way of watching TV and film.
Viewers are also subscribing to more than one SVoD service.
Main broadcasters hold their share
However, despite this, the five main public broadcasters (BBC One, BBC Two, Channel 4, ITV/STV and Channel 5) held their share of viewing at 52%.
The decline of traditional TV viewing is most prevalent in the younger age group (16-24 years old) who have halved the amount of time they spend watching traditional TV since 2010.
Younger viewers move away from traditional TV
Since 2017, viewing by all people of subscription video on demand (SVoD) and YouTube content has grown.
The four and a half hours of total video content watched by 16-34s includes three main components: Live TV (83 mins); YouTube (64 mins) and SVoD (52 mins). For the youngest adults (aged 16-24), the most-watched platform is YouTube (73 mins).
But broadcaster-on-demand services (BVoD) are lagging behind SVoD. BVoD services (including iPlayer, ITV Hub, All4 and My5) remained at a similar overall level of viewing in 2018 compared to 2017; people in the UK are watching on average around 8 minutes of BVoD a day compared to 26 minutes of SVoD.
This has lead to BVoD platforms changing the way they serve content. For example, all episodes of series 1 (2018) and series 2 (2019) of the BBC's Killing Eve were made available as a box set on BBC iPlayer immediately after the broadcast of the first episode. This caters to the 'binge-watching' trend that SVoD platforms cater for.
How has Wales' TV viewing trends changed?
On average, people in Wales watched 3 hours 33 minutes of broadcast TV in 2018, that's 9 minutes less than 2017.
Viewing of SVoD services increased by 10 minutes per person, per day in 2018, to 54 minutes.
48% of TV households in Wales have a television connected to the internet (Smart TV). 56% of adults in Wales use an on-demand/streaming service such as Netflix or BBC iPlayer.
Have your TV viewing habits changed over the past year? Could we help you use TV or SVoD to reach your audience? Get in touch today.
Sources: https://www.ofcom.org.uk/__data/assets/pdf_file/0019/160651/media-nations-2019-wales-report.pdf , https://www.ofcom.org.uk/__data/assets/pdf_file/0019/160714/media-nations-2019-uk-report.pdf , https://www.bbc.co.uk/news/entertainment-arts-49248030
Our favourite brand partnerships in Netflix's 'Stranger Things'
Brand partnerships galore help to promote Netflix's 'Stranger Things' third season.
Netflix has started partnering with brands to market original shows like 'Stranger Things', 'Glow' and 'Queer Eye'.
Partnerships have grown since the show debuted. This handy graphic from Business Insider shows how Netflix has introduced major partners into the show's marketing strategy.
Third season partnerships
This season has seen partnerships with Baskin-Robbins, Burger King, Coca-Cola, H&M, Lego, Levi's and Nike. These have helped get Netflix into physical stores.
As the third season takes place during summer, it provided the perfect opportunity for Baskin-Robbins, especially as scenes took place in fictional ice-cream store 'Scoops Ahoy'. The company released custom flavours and a TV advert.
Merchandise releases
This season, H&M launched a retro collection and Nike teased the release of their 'Stranger Things Air Tailwind 79 OG Collection' which mixes iconic design with 'Stranger Things. imagery.
All about the food
In the US, focus has been on food partnerships. Burger King released the 'Upside-Down Whopper', a reference to the 'hidden world' in the show. Available in just 11 stores (another show reference), the brand also renamed themselves 'Stranger King' on Twitter and flipped their logo.
Coca-Cola re-released the retro 'New Coke. Ironically, the original drink was taken off sale after just 79 days after a barrage of complaints. However, after featuring in the new season of 'Stranger Things', Coca-Cola have released 500,000 cans in the US.
Have you spotted these brand partnerships, are they any more in the show you've seen?
Sources:
https://www.campaignlive.co.uk/article/stranger-things-11-best-brand-collabs-series-three/1589953, https://www.businessinsider.com/what-stranger-things-says-about-netflix-marketing-strategy-2019-7?r=US&IR=T, https://metro.co.uk/2019/07/05/what-was-new-coke-as-featured-in-stranger-things-season-3-and-what-happened-to-it-10115806/
ITV and BBC push subscription video on demand platform to rival Netflix
The UK's two biggest broadcasters, ITV and the BBC, are in the final stages of discussions to launch a new subscription video-on-demand streaming service, BritBox, in the second half of the year.
"BritBox will be the home for the best of British creativity – celebrating the best of the past, the best of today and investing in new British-originated content in the future," said ITV CEO Carolyn McCall.
Other UK broadcasters are expected to join the project in due course. While no price has yet been confirmed it is expected to be "competitive".
The move is a belated response to developments in the sector, where Netflix, Amazon and Sky's NOW TV have led the charge to meet growing consumer demand in the UK for streaming services.
In the UK, more than 12 million households have at least one SVOD service and BARB data shows that more households are taking multiple subscriptions. The annual growth in homes with any SVOD service is 20%, the growth in homes with multiple services is 32%, with 4 million homes now having more than one subscription.
In addition to the demand for streaming services, ITV research indicates strong interest in British content. With 43% of all online homes interested in subscribing to a new SVOD service which features British content – a figure that rises to over 50% in homes with a Netflix subscription.
Josh Krichefski, CEO at MediaCom UK, described the new venture as "a positive, but ultimately necessary, step" for broadcasters seeking to attract a generation of younger viewers who are most likely to be abandoning traditional linear TV; nearly half of teens watch TV on-demand most often, he pointed out.
A recent study by marketing and media consultancy Ebiquity suggested that broadcasters in the UK face a "tipping point" over the next three to five years as more viewers switch to subscription streaming services, such as Netflix and Amazon Prime.
It remains to be seen whether viewers will be prepared to add yet another subscription layer on top of the TV licence fee. Much will depend on the quality of the original programming and here BritBox is a small player when set against the £10bn Netflix spent globally on this last year.
How could advertising on video-on-demand help your advertising goals? Get in touch, [email protected]
Sourced from ITV, Guardian, Variety; additional content by WARC staff
Netflix attributes strong subscriber growth to Birdbox and Bandersnatch
Although Netflix's latest earnings saw it slightly miss revenue targets, they over-delivered on subscriber growth despite a price hike in the US.
The streaming giant boasted revenue of $4.19bn in the closing quarter of 2018, narrowly missing Wall Street's projected $4.21bn. It will now introduce a US price hike from $11 per month to $13 in the hope of combating its sliding earnings (27% lower year on year).
The streaming service added 1.53 million subscribers in the US and 7.31 million internationally, outperforming analyst projections. Despite the optimistic projections, Netflix stock was down by 2.9% after the call.
During the period, the company launched Sandra Bullock horror film Birdbox, and it applauded the global response to the film that critics were tepid on. The company claims the movie drew 45 million viewers in its first week and clarified that it counts a 'view' as 70% completion. It does not release figures for independent validation, however, and Nielsen has pegged Birdbox viewership to closer to 26 million.
Netflix also launched a bold foray into interactive story-telling in the fourth quarter. Chief content officer Ted Sarandos reflected on the launch of Black Mirror tale Bandersnatch.
He said: "There have been a few false starts on interactive storytelling in the last couple of decades. And I would tell you that this one has got storyteller salivating about the possibilities.
Want to know more about advertising?
Send us an email at [email protected]
Want to know more about advertising on video on demand?
See more here.
Source: https://www.thedrum.com/news/2019/01/18/netflix-lauds-strong-subscriber-growth-birdbox-and-bandersnatch-impress
Brand rankings: who do young people love?
According to new research led by YouGov, Netflix is the most positively talked about brand among 18-34 year olds.
For the second consecutive year the streaming service leads YouGov's Millennial Rankings with a score of 77%. Followed by Spotify at 73%. Primark and Apple share third position at 71%.
Facebook and McDonalds both share a score of 70%. The rest of the top ten is made up of gaming (PlayStation: 69%), travel (Airbnb: 69%), tech (Apple iPhone: 69%) and homeware (IKEA: 68%) industries.
"Netflix's popularity shows no signs of abating," said Michael Stacey, marketing insights manager, YouGov. "The streaming service continues to expand its offering, as well as investing in its own 'Netflix originals'.
"By its very nature Netflix's content invites discussion, and YouGov's rankings show that the brand has certainly harnessed the power of word of mouth recommendations to gain a loyal following among a younger generation of viewers."
There is still a strong presence from 'affordable brands', such Primark, McDonalds and IKEA. Even though Stacey also noted that tech features prominently in the rankings. 
Cinema chain Vue (11%), Visa (9%), Google Phone (7%), and Grey Goose (6%) experienced the largest uplift in 'positive word of mouth.'
Source : Mediatel