Demand in OOH advertising grows in the first quarter
As we all know travel has resumed on a nearly back to normal basis, airports are busy and international travel is back on the table for us all. This has resulted in huge growth in demand for OOH ad spaces in and around travel hubs. JCDecaux, the world's largest outdoor advertising company has announced that their revenue growth was 32% for the first six months of 2022 hugely contributed to by the recovery of the travel sector following the pandemic.
This was evident in N. America where growth doubled to €116.2m against 2021, driven by a significant return of US air travel, with US airport advertising revenue now reaching 90% of what it was before the pandemic. Here in the UK growth was up by 72% to €143.4m.
In the second quarter of 2022 JCDecaux grew by 22% year on year, with all regions recording increases except Asia-Pacific (likely due to lockdowns continuing in China)
Overall, all elements of their business grew in the first half of 2022:
Transport ad business grew 28% organically to €459m.
Street furniture up 38% organically to €789.4m.
Billboard advertising up by 22% to €226.4m.
It is estimated by Jean-Charles Decaux, co-CEO of JCDecaux, that the company will grow organically by "around 7%" in the third quarter of 2022. (Source:The Media Leader)
The Secret Behind Football Stadiums Advertising
Whether you're a football fanatic that can't pull your eyes away from the screen or an onlooker who has caught site of the screen whilst your partner is watching. We know that you have seen the adverts that run around the edge of the pitch.
But did you know these adverts are different based on channel and location that the viewer is watching from?
This is done by a technology called Virtual Replacement, which allows different broadcasters to overlay relevant adverts over the physical ones that are present within the stadium.
The first pitchside football advertisement ever seen was at the 1966 World Cup and since then, football advertising has become a popular tool for brands to showcase their name.
Stadium Marketing is a growing style of outdoor advertising. Its increasing popularity is due to its ability to target ideal customers. This means that a brand can understand their audience demographic using their interest in football to determine other similar interests. Alongside this you can ensure it will hit a large number of people to give your brand a mass marketing opportunity.
During this summer of sport watch out for the adverts in the Olympics and The Lions.
If you need help choosing the right mix of media for your brand then please contact our friendly team at [email protected].
Out-of-home audiences at 73% of pre-COVID levels.
Great news for out-of-home! With children returning to school. and many people returning to the workplace, roadside audience figures are increasing! Audience numbers are now at 73% of pre-COVID levels.
Furthermore, according to National Statistics, 53% of workers travelled to their workplace at least once during the week to March 14 – this is 48% up from the week before. As the end of March approaches and more restrictions are being lifted, we can expect audience mobility to continue to grow.
Here are some key stats:
Clear Channel's roadside audience levels at 73%.
Audience levels within residential areas have increased by +9 percentage point to 81%. (Source: Clear Channel Radar (w/e 13th March)
Audience levels in proximity to Asda and Sainsbury's (83%) and parks (77%) have increased by +10 and +7 percentage points respectively. (Source: Kinetic Viewpoint (24th February).
Alfresco Life survey shows that leaving home to grocery shop (83%) or exercise (82%) are the most popular activities. (Source: Google Mobility Data 16th March 2021 (7 Day Average)).
Mobility to parks is currently at +23% above the baseline. (Source: Talon ADA (w/e 7th March)).
London roadside traffic is now at 93% vs the baseline average following a 1% growth WoW.
Visits to supermarkets witness 1% growth WoW, currently at 96% vs average.
Predicted Impacts and reach figures for 2021
This is excellent news for our clients who have missed out of home advertising over the last year. The above figures are really promising and only set to increase as restrictions relax. If you would like us to look at an outdoor campaign for your business our friendly team would be more than happy to help. Please contact us here- [email protected].
The year of the 'Staycation'
The UK is heading for a summer of staycation. Households are leaving towns or cities and heading into more rural areas, with the majority travelling by motorway. School summer holidays are here and many in need of a break will be travelling by car to their UK holiday destination.
Now is the time to go outdoors! Outdoor advertising in the UK is on the up!
The OOH audience is returning with 60% of pre-lock down levels across all platforms, and brands are jumping back onto OOH to capture their audience's attention. See Mcdonalds OOH ads capturing feelings of the nation. Bus traffic was back to 97% of pre-lock-down levels and roadside traffic to 97% The rate of return in proximity to significant points of interest is growing, the greatest return is in more suburban areas and areas close to the sea, in comparison to traditional high footfall areas such as city centres.
£48 billion is usually spent each year on summer travel, but with more of us looking to holiday closer to home, a large chunk of this could be injected back into the UK economy*
OOH campaigns are 27% more likely to make large shifts in brand effects (Binet and Field)
OOH campaigns see 47% uplift in sales activity effects V's non users
Whatever your message, we are here to help…
Motorway service stations could be a great place to start with a range of options available including large format digital, 6 sheets and washroom advertising.
If you would like to book an outdoor media campaign or more, contact our friendly team here – [email protected].
Source: Parkdean Resorts' 2020 Staycation Market Report
The Media Angel are finalists at international marketing awards
The Media Angel have been announced as finalists in the international Drum Out of Home Awards 2019!
This global competition recognises those who have produced the most creative and effective out of home advertising work over the past year.
Their work for Swansea University's College of Engineering has been shortlisted in the 'Small Budget' category, which sought campaigns which had achieved impressive outcomes on a small budget.
They are nominated alongside UKTV for their work on Dad's Army, and McCann Health London for their campaign for OCO Opticians. Other finalists include Tesco, Huawei, ITV, Carlsberg and Starbucks.
Countdown is on until the awards ceremony which is being held later in November at The Emirates stadium in London.
Link to nominations; https://www.thedrumoutofhomeawards.com/the-drum-out-of-home-awards/the-drum-out-of-home-awards-2019#100921
Adshel Live becomes UK's largest DOOH network
Clear Channel UK's Adshel Live becomes the largest digital out-of-home network in the UK.
Over 1,500 digital roadside 6-sheet screens. Located in busy retail and leisure hotspots in major towns and cities including London, Birmingham, Bristol, Glasgow and Liverpool.
This premium network is primed to influence consumer spend and deliver Activation campaigns at scale. Fitted with the latest digital and mobile technology. Adshel Live provides endless flexible planning and creative opportunities for brands to find the audience moments that matter.
72" HD, sun light visible screens
Flexibility to run day and day-part specific activity
Technology enables multiple copy updates and location, time and data-driven dynamic content
Features mobile connectivity including Beacon technology
How can Adshel work for you?
Global enters out-of-home market
Global, the UK's largest commercial radio group, has made the bold move into the out-of-home sector with the purchase of Primesight and Outdoor Plus.
The surprise double acquisition, to be named Global Outdoor, is estimated to have cost more than £200m.
Primesight has an advertising estate covering more than 35,000 sites nationwide, reaching over 95% of the UK population. Outdoor Plus has a strong premium digital footprint. Particularly in London where it runs ads at The One, Knightsbridge, The Hammersmith Towers and Euston Underpass, as well as a network of digital bridges in partnership with TfL.
Founded by Jonathan Lewis in 2006, Outdoor Plus also has over 100 premium OOH sites nationally. Including; the Bluewater and Manchester Arndale shopping malls and premium digital roadside sites in Cardiff, Brighton and Bristol.
Jonathan Lewis and Primesight's CEO, Naren Patel, will transition with their respective businesses. Global Outdoor will be overseen by Stephen Miron, Global's Group CEO.
The new business will work alongside Global's radio business. Whilst the two businesses will run stand alone, Global's said its structure will "enable smart opportunities" for advertisers in the future.
"We're incredibly excited to be entering the Out-of-Home (OOH) sector in a substantial way through the acquisition of Primesight and Outdoor Plus," said Miron.
Source:MediaTel
Want to know more about out-of-home or radio?
Send us an email at [email protected]
OOH: How much should you allocate to digital?
The optimal amount of an advertiser's digital out-of-home (DOOH) budget should be 45%, according to a new effectiveness study by BrandScience.
The research analysed over 211 OOH ad campaigns between 2011-2015. It found when the costs of digital and traditional OOH are taken into account, the optimal proportion of DOOH is about 45 per cent. Above this level, returns are diminishing, the study said.
The report also makes recommendations for different types of advertisers on how to maximize ROI when combining digital and traditional OOH as part of a wider media mix with these given examples.
Grocery retailers' optimal OOH investment is about £7 million, which yields about 70 per cent in incremental value.
Travel companies, the optimal OOH investment is about £2.7 million, which yields about 15 per cent in incremental value.
Sally Dickerson, the global chief executive at BrandScience, the researchers of the commissioned study said:
"We can clearly measure out-of-home effectively and we have proved that a slightly increased OOH spend – in many cases – delivers higher ROI."
The report also said OOH improves the rate of return on investment for all other media used in an ad campaign, except for print.
Get in touch with us with a campaign brief, to see how we can incorporate traditional and digital out of home formats into your marketing mix, to help maximise and deliver the best return on investment for your budget.
Which out-of-home advertising format is best for your business?
The out-of-home [OOH] advertising market is full of great formats for your brand, from static to digital, small to large, there's something for everyone!
Did you know, 98% of the UK population see outdoor advertising each week? This places the weekly reach of outdoor right up there with the likes of television as a high impact advertising format.
Roadside formats
One popular roadside format are static 6 sheets, perhaps better recognised as the adverts on bus shelters. These reach a massive 92% of the UK each week, delivering impacts on major routes into towns, cities and city centres.
48 and 96 sheets are great for high impact and are most often placed in high traffic locations.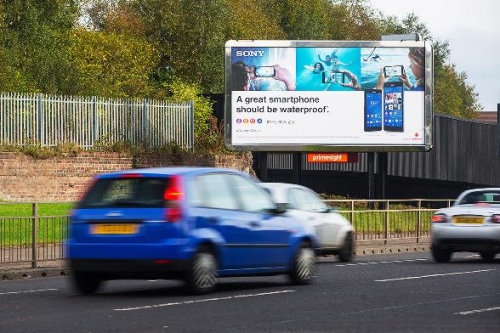 Roadside formats are always being improved and the portfolio now includes digital sites, both large and small format, find out more about the capabilities of digital OOH here.
Transport
Transport advertising on rail, the London Underground and at airports across the UK reach approximately 17% of the UK population every week.
Transport advertising can reach a wide variety of demographics; commuters, families, couples, ABC1s… The Media Angel can index opportunities to find the best for you.
Transport locations have seen increased investment in advertising opportunities over recent years, and some landmark sites have had great OOH advertising sites installed.
Bus advertising is another popular OOH media platform. There is a plethora of different options, from rears to T-sides, to full wraps! The Media Angel can help select the best bus advertising platform for your brand.
Retail  
Alongside transport sites, retail locations have also seen huge investment into advertising opportunities. Shopping centres have become multi-purpose destinations and many sites are now home to cinemas and food halls as well as retail stores, making them a popular destination.
Opportunities range from digital 6 sheets [as picture above] to larger digital sites which provide amazing impact.
The world of OOH advertising is vast, and choosing the right combination of sites can be difficult. That's where The Media Angel come in! Our team select the best sites to meet your audience and budget, if you would like to learn more, get in touch today.
Thank you Swansea Council for choosing us as your agency!
What a fantastic summer it has been for The Media Angel this year! Our team has been exceptionally busy nurturing existing client campaigns and growing new client friendships across the summer months; and as we end one season into another we have a hugely exciting project to report on.
We are delighted to announce that following an exacting procurement process, The Media Angel  have been awarded the contract to be the supporting media agency  for Swansea Council's Tourism Team during this year's  campaign named 'Swansea Bay Moments'. This is an outdoor campaign that will extend into some of the UK's largest cities, including Liverpool, Manchester, Birmingham and London.
After going through the procurement process for the project, our team received the amazing news that we had been successful. Alison Debono, Managing Director at The Media Angel was delighted with the news that her team had submitted the successful bid;
"I am so very proud of my team! We have all worked extremely hard on this project, making sure we could deliver a great and successful campaign for excellent value. We really couldn't be more thrilled with this win. The team at Swansea Council have produced some award winning campaigns, and we are all very excited to be working with them".
The campaign is due to start at the beginning of October this year; and aims to invite visitors from across the UK to come and visit Swansea Bay. Visitors will be encouraged to make and share 'moments' from their Swansea Bay adventure.
Steve Hopkins,  Tourism Team Manager said "We're particularly looking forward to beginning this Autumn's campaign as we're  trialling digital video ads for the first time and can't wait to see them in action!".
We are very eager to help the council promote the message about Swansea Bay; we can't wait to get started in showing people across the UK how truly beautiful, unique and diverse Swansea Bay really is.