Out-of-home audiences at 73% of pre-COVID levels.
Great news for out-of-home! With children returning to school. and many people returning to the workplace, roadside audience figures are increasing! Audience numbers are now at 73% of pre-COVID levels.
Furthermore, according to National Statistics, 53% of workers travelled to their workplace at least once during the week to March 14 – this is 48% up from the week before. As the end of March approaches and more restrictions are being lifted, we can expect audience mobility to continue to grow.
Here are some key stats:
Clear Channel's roadside audience levels at 73%.
Audience levels within residential areas have increased by +9 percentage point to 81%. (Source: Clear Channel Radar (w/e 13th March)
Audience levels in proximity to Asda and Sainsbury's (83%) and parks (77%) have increased by +10 and +7 percentage points respectively. (Source: Kinetic Viewpoint (24th February).
Alfresco Life survey shows that leaving home to grocery shop (83%) or exercise (82%) are the most popular activities. (Source: Google Mobility Data 16th March 2021 (7 Day Average)).
Mobility to parks is currently at +23% above the baseline. (Source: Talon ADA (w/e 7th March)).
London roadside traffic is now at 93% vs the baseline average following a 1% growth WoW.
Visits to supermarkets witness 1% growth WoW, currently at 96% vs average.
Predicted Impacts and reach figures for 2021
This is excellent news for our clients who have missed out of home advertising over the last year. The above figures are really promising and only set to increase as restrictions relax. If you would like us to look at an outdoor campaign for your business our friendly team would be more than happy to help. Please contact us here- [email protected].
Making the most out of outdoor digital advertising
Digital outdoor advertising (DOOH) is much more than just a screen which enables movement, but what are some ways your campaign can utilise dynamic technologies?
Recently, Pirinase used weather data to help their campaign promoting their hay fever relief spray. The campaign is activated when the MET Office pollen count reaches 'high' or 'very high.' This ensures the campaign reaches hay fever sufferers at times when they need relief.
Another example of using weather data is B&Q's long-running campaign. Their creative pushes summer products when the weather is good, ensuring relevance to the weather.
Outdoor advertising can also be geo-fenced, allowing passers-by to be targeted. Econsultancy reported that "O2 partnered with Dax and Mobsta to log device IDs (via Bluetooth) when people pass an out-of-home (OOH) site. These IDs were then used to see if a particular user subsequently visited an O2 store, where their device ID would be tracked."
O2's campaign for the Samsung S8 handset also used geofencing to target ads on digital radio, Soundcloud and Deezers at people within 500m of the OOH site.
Digital advertising can also utilise travel data, such as flights times, drive times or sports data. We particularly like how Guinness used it during the Six Nation's.
The creative alerted people to an upcoming match and its kick-off time, as well as the distance to the local pub.
Participating pubs then used sensors to capture footfall data and, if they got too full, would trigger a change in creative to direct fans to alternative venues.
Could your campaign use dynamic data? Get in touch today.
Sources: https://www.jcdecaux.co.uk/news/pirinases-powerful-pollen-counting-ooh-campaign , https://econsultancy.com/six-clever-examples-of-what-dynamic-outdoor-advertising-can-do/
Global to acquire Exterion Media
Radio group Global has made a binding offer to acquire Exterion Media just weeks after snapping up fellow OOH (out-of-home) companies Primesight and Outdoor Plus in a double deal.
The purchase will help the media organisation bulk up its newly-formed OOH division, Global Outdoor.
In the UK, Exterion boasts an estimated 20% share in the sector. They hold the lucrative £1.1bn Transport for London (TfL) advertising contract for the London Underground and rail networks.
Current chief executive Leon Taviansky will transition with the business to Global Outdoor, which it has been announced will be overseen by Stephen Miron, Global's group chief executive.
Miron said the acquisition complemented its two most recent buys.
"The incredibly positive reaction we have had to the news of our entrance into the OOH sector only reaffirms our belief and excitement about the opportunities within the outdoor market," he said.
"Exterion has a great track record in the UK and across Europe and we look forward to working with the team to develop the business further."
'Heavily investing' in digital sites
The LBC, Heart and Smooth Radio owner now has three prime OOH estates that will help it flex its muscle against giants like JCDecaux and Clear Channel.
Global previously suggested that digital OOH will become an increasingly important part of its business, saying it would "heavily invest" across Primesight and Outdoor Plus' portfolio to up the number of digital sites it owned.
On the radio side, Global has already doubled down on programmatic with its audio exchange platform DAX.
The 'perfect fit'
Exterion is also responsible for the OOH inventory across the other three metro systems in the UK: Newcastle, Liverpool and Glasgow.
The company claims to be the largest supplier of bus side advertising in the UK, and Global said its "transport focussed assets" would serve as a "perfect" complement to the portfolio it scooped up in the Primesight and Outdoor Plus deal, adding transport to its "existing, mostly roadside business."
Primesight has an OOH ad estate of billboards and display panels that covers more than 35,000 sites in the UK, claiming to reach 95% of the population.
Outdoor Plus, meanwhile, owns a multitude of premium digital ad sites nationwide, especially in London where it owns the space at the Hammersmith Towers and Euston Underpass.
Global's most recent purchase will have a far-reaching impact on the OOH industry for both competitors and brands.
Source: The Drum
How can we help you incorporate outdoor or digital advertising into your marketing? 
Global enters out-of-home market
Global, the UK's largest commercial radio group, has made the bold move into the out-of-home sector with the purchase of Primesight and Outdoor Plus.
The surprise double acquisition, to be named Global Outdoor, is estimated to have cost more than £200m.
Primesight has an advertising estate covering more than 35,000 sites nationwide, reaching over 95% of the UK population. Outdoor Plus has a strong premium digital footprint. Particularly in London where it runs ads at The One, Knightsbridge, The Hammersmith Towers and Euston Underpass, as well as a network of digital bridges in partnership with TfL.
Founded by Jonathan Lewis in 2006, Outdoor Plus also has over 100 premium OOH sites nationally. Including; the Bluewater and Manchester Arndale shopping malls and premium digital roadside sites in Cardiff, Brighton and Bristol.
Jonathan Lewis and Primesight's CEO, Naren Patel, will transition with their respective businesses. Global Outdoor will be overseen by Stephen Miron, Global's Group CEO.
The new business will work alongside Global's radio business. Whilst the two businesses will run stand alone, Global's said its structure will "enable smart opportunities" for advertisers in the future.
"We're incredibly excited to be entering the Out-of-Home (OOH) sector in a substantial way through the acquisition of Primesight and Outdoor Plus," said Miron.
Source:MediaTel
Want to know more about out-of-home or radio?
Send us an email at [email protected]
InLinks hit 400 screens
Primesight's InLinks hit 400 screens across five UK cities and eight London boroughs.
InLinks are a hybrid of functionality and advertising. They connect the public to the web, provide free phone calls and offers councils a way to communicate directly to their constituents. 
They provide a range of free public services, not least the fastest public WiFi in the UK. They also have a touch-screen tablet with a range of features including content and apps. Also, free calls to UK landlines and mobiles, and rapid charging through USB ports. Advertising is displayed on two HD 55 inch screens that fund all the services.
They have this week grown to 400 screens across Leeds, Gateshead, Glasgow, Southampton and London.
In just over a year InLinks have grown from their beginnings on Camden High Street to a further seven London boroughs. Including; Hackney, Hammersmith and Fulham, Islington, Lambeth, Southwark, Tower Hamlets, Wandsworth.
77% of consumers agreeing that InLink has a positive impact on their community. 64% agreeing they make their cities more innovative.
Our latest research also suggests that 75% feel more positively about brands that sponsor services such as Wi-Fi, location and travel information.
Source: https://www.primesight.co.uk/news/article/inlinks-hit-400-screens/
If you want to make sure you're using your marketing budget to its full potential, then give our team a call on 02921 320 200
or email at [email protected]
The Media Angel in National Finals of Prestigious Marketing Awards
For the second year running we are pleased to announce that we have been shortlisted for The Drum Marketing Awards. Our entry for "Public Sector Marketing Strategy of the Year " was for The National Botanic Garden Of Wales's Summer Campaign for 2017 which helped to dramatically increase their family footfall by 43%  to the Gardens .
The Drum Marketing awards celebrate the best marketers and campaigns nationally and internationally. Open to advertising agencies, in-house marketing teams, design consultancies, digital agencies, PR companies and integrated agencies we are pleased to represent Wales against some of the larger UK agencies.
The Drum Marketing Awards are considered to be one of the industry's most sought after accolades and have many prestigious judges such as Michal Szaniecki, marketing Director, Volkswagen and…. Vanessa Fitzgerald Regional Director, Northern Europe, Facebook.
We created a multi faceted campaign which focused around the new British Bird of Prey Centre utilising Out of Home (OOH), On line, regional press and radio.  We are shortlisted along with some impressive national campaigns such as BBC Children in Need "Do Your Thing" and Kindered for HM Treasury and The Royal Mint.
Alison Debono, MD of The Media Angel said "We are beyond thrilled to be representing Wales as finalists at The Drum Awards 2018, especially as we are in the same category as such huge brands."
The results will be revealed and the trophies handed out at the award ceremony on 30th May at the Park Plaza Westminster Bridge Hotel, London.
Integrating TV Advertising with DOOH
When TV advertising and DOOH advertising are combined, the impact on the viewer is significantly increased rather than with one medium alone.
TV advertising creates prestige for a brand whilst developing an element of trust with the viewer. 77% of adults claim that TV adverts are most likely to trigger an emotional response leaving a memorable impression on the viewers mind.
DOOH is more likely to engage people who are active, such as commuters, shoppers, and socialisers. Their engagement with the ad in this active state will thus make it more likely that the brand becomes inescapable; it's marketing message engrained.
From a planning point of view the integration of DOOH and TV is flexible in deadline cut off allowing changes to marketing messages and reaction to the current market place. DOOH advertising is fast and responsive, with campaign amendments often made hourly. This affords brands the agility to optimise their advertising activity, boost campaign efficiency, and obtain last-minute deals.
What's more, campaign efficiency can be increased by integrating the targeting capabilities of TV and DOOH advertising. TV ads allow for demographic targeting, as they can be placed on niche interest channels or programming watched by a brand's target audience.
DOOH ads can be targeted in terms of location (for example, advertising outside a retail outlet to attract more customers) and time (for example, advertising by lunchtime to target commuters). Indeed, DOOH ads will serve as a perfect supplement to TV ads because they are not as easily avoided as TV ads, and will reach a wider audience.
Finally, integration heightens online response. Indeed, 74% of UK adults claim to have picked up an internet connected device during TV ad breaks This consequently leads to upsurges in brand searches and greater social media engagement. The use of DOOH will further drive this online response. According to a research project, OutPerform, by Outsmart, OOH activity drives +17% uplift in smartphone brand actions. The integration of TV and DOOH should thus generate a wider online response.
In summary, it is clear that the distinct benefits of TV ads and DOOH ads will be significantly increased when they are working together. This will create a more effective advertising strategy for the advertiser, thereby ensuring that its audience is more acutely captivated.
If you need help ensuring your marketing budget is invested on the right media platforms so you STAND OUT and get results, contact our award winning team for impartial media planning and buying expertise on [email protected] or call us on 02921 320200. #LoveMarketing
 
Ad-funded free Wi-Fi kiosks launched by BT and Primesight
The state-of-the-art replacements for London payphones finally launched this week, with Camden the first borough to turn on the shiny new machines.
The new InLinkUK kiosks, which allow hundreds of users to access Wi-Fi, will also provide free landline calls and marks the next step in the evolution of payphones in the capital. Created via a partnership with BT, Primesight and Intersection, they will provide free Wi-Fi, calls and phone charging services – all funded by the incorporated digital advertising.
The free services supplied by the kiosks will be funded by the ad revenue generated, but other "premium services" such as maps, directions and local services will also be available.
Sensors will feature on the new Links, which can capture real-time data relating to the local environment, including air and noise pollution, outdoor temperature and traffic conditions. This could potentially introduce a new range of "smart services" to local councils and communities based on the Internet of Things, says BT.
Only two 55-inch digital ad display Links have been installed on Camden High Street so far, with at least 1,000 InLinks being installed across central London and major cities across the UK over the next few years.
Advertisers will be able to buy on a 'share of time' basis in the kiosks placed only in high footfall, inner-city locations. They have also been designed to be seen by pedestrians as well as motorists.
InLink will offer advertising for national brands, but will also support "community commerce" allowing local advertisers to buy screen time. It also offers opportunities to tailor ads to the weather and can promote local businesses with timely offers and directions.
London is second only to New York in bringing InLinks to its streets, which were first installed in January 2016 as part of LinkNYC. Over 1.8 million users have registered to use the Wi-Fi service in the US.
If you need help ensuring your marketing budget is invested in the right media platforms so you STAND OUT and get results contact our award winning team for impartial media planning and buying expertise on [email protected] or call us on 02921 320 200.
The Media Angel Take Home Best Advertising Campaign Award
We are delighted to announce that we have won Best Advertising Campaign at this years CIM Chartered Institute of Marketing Wales/Cymru Awards 2016 held at Portland House in Cardiff Bay on 23 November.
Our innovative advertising campaign that we implemented for National Botanic Garden of Wales was to help them increase visitor numbers and promote new attractions including The Butterfly House / Plas Pilipala. To help achieve this we developed a family focussed, integrated campaign that ran throughout summer 2016. As a result the campaign that included video, radio, online and outdoor marketing, increased family visits by 68%.
David Hardy, Head of Marketing and Communications for National Botanic Garden of Wales said: "We are delighted to have won "Best Advertising Campaign" for our Butterfly House with The Media Angel who did a fantastic job, we are still reaping the benefits of their excellent work today."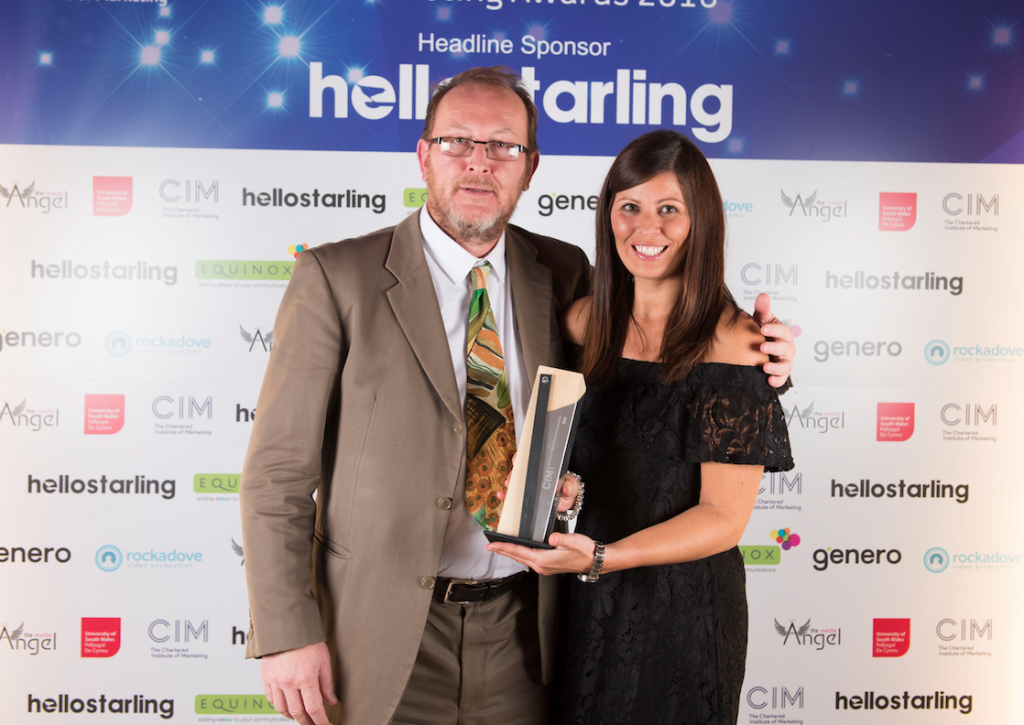 The CIM's prestigious Wales Marketing Awards highlight industry excellence and celebrate the achievements of marketing professionals in Wales. The award for "Best Advertising campaign" recognised a campaign that used striking creativity and strategic planning to reach and engage a family audience. The channels used and results delivered against the campaign objectives really impressed the judges.
On winning this accolade Managing Director Alison Debono said: "We are thrilled to have won this CIM Award. This campaign highlights that great results and a good return on investment can be achieved with limited budget, creativity and by selecting the most appropriate media mix to deliver the campaign objectives. We are beyond happy that our work has been recognised once again on a National basis"
If you would like to read more on the sucess of this campaign please click here…
If you need inspiration on implementing your next advertising campaign contact our award-winning team on 02921 320 300 or via email: [email protected]
Increase your audience with OOH Technology
As out of home technologies go digital, advertising can now be extremely dynamic, creative interactive and engaging
Increasingly internet users are accessing the web through mobiles. Outdoor digital advertising allows advertisers to integrate mobile with large displays. New technologies are bringing a whole new way to target and engage with your audience. Gaze recognition, gender recognition, and even emotion recognition are enabling advertisers to target messages precisely at their passing audience. As campaigns such as "Look at Me" for Women's Aid prove. The ad used gaze- tracking technology to monitor how many people were looking at the display at any one time – changing the creative as more people paid attention to it.
There are opportunities to engage with mobile users through the use of apps created especially for a particular campaign; for example NHS Blood and Transplant's "virtual blood donation" campaign, required passers-by to make a "blood donation" using an augmented reality app, while on a connected out-of-home display, a sick patient is shown gradually returning to health as the virtual donation takes effect.
Advertisers have increasingly been able to break down audiences into precise segments, across all media enabling them to target their messages in ever-more specific ways. Using the latest technology innovations, advertisers can target individuals in real time using digital out-of-home solutions – making media work harder than ever before.
For example, Renault used vehicle recognition to target motorists. With only seconds to catch their attention, they delivered a targeted message based on audience demographics and vehicle spec. Cameras identified the make, model and colour of vehicles from their number plates, and served messages to specific drivers as they waited at traffic lights. This way the message is speaking directly in real time to the audience and highly likely to get more attention.
If you need help to STAND OUT with your marketing then get in touch with our experienced team who can help craft innovative solutions based on your brief. Call 02921 320200 or email [email protected]
JCDecaux joins the Internet Advertising Bureau
JCDecaux has signed up as a member of the IAB UK in an "important strategic step" as it continues to transition towards more digital outdoor media.
JCDecaux are rolling out 1,000 digital bus shelter screens in London. The outdoor media giant has joined the digital advertising trade body to highlight its digital ambitions and to promote the company's role in transforming out-of-home advertising into a digital form in the UK.
JCDecaux won the Transport for London's bus shelter contract last year. The world's biggest digital street furniture rollout has experienced delays but is now about to install 1,000 new digital new screens across the Capital.
The membership will also enable JCDecaux to access the IAB's research, education and events as the company aims to upskill and attract new talent.
More than 50% of JCDecaux's revenue comes from digital based media now.
Animation / Motion + 10%
More attention for animated creative over static and film.
Best example generated +24% impact for part animated copy.
Full video loses attention and impact.
The study measures actual contacts via face – tracking.
If you are interested in incorporating outdoor advertising into your media plans, then please call one of our team today on 02921 320200.
UK adspend has grown to £20.1 billion
A recent report by the Advertising Association/Warc Expenditure has shown a rise in UK adspend by 7.5% to £20.1 billion. This is the highest rate since 2010.
Cinema adspend saw the greatest rise of 20.8 per cent to reach a record £283 million in 2015. The release of Star Wars: The Force Awakens and Spectre has strengthened this. It is expected to grow further in 2016.
The second highest was internet adspend which rose 17.3 per cent to £8.6 billion. Mobile made up 78 per cent of the growth as it increased 61.1 per cent to £2.6 billion. Rapid growth is expected to continue in this sector.
TV adspend rose by 7.3 per cent to reach a record £5.3 billion. This was made up of a growth in spot spend of 6.7 per cent to £4.8 billion, and a 20.7 per cent increase in video-on-demand to £175 million. Total TV spend is forecast to rise a further 5.1 per cent in 2016.
Radio adspend grew 2.9 per cent to £592 million, and out of home spend rose 3.9 per cent to a record high of £1.1 billion.
Despite the fantastic growth in adspend for these platforms, print adspend for national newsbrands dropped 11 per cent to £1.2 billion. However, digital adspend increased by 2.5 per cent to £220 million. Direct mail spend grew 1.4 per cent to £1.9 billion data from the Royal Mail has shown.
The ad market is expected to grow again this year with AA/Warc forecasting 5.5 per cent growth for 2016 and for 2017.
Are you undecided on the best channels to suit your marketing objectives? Contact our friendly team on 02921 320 200 or email [email protected] for award-winning media planning and buying advice.