The Media Angel Take Home Best Advertising Campaign Award
We are delighted to announce that we have won Best Advertising Campaign at this years CIM Chartered Institute of Marketing Wales/Cymru Awards 2016 held at Portland House in Cardiff Bay on 23 November.
Our innovative advertising campaign that we implemented for National Botanic Garden of Wales was to help them increase visitor numbers and promote new attractions including The Butterfly House / Plas Pilipala. To help achieve this we developed a family focussed, integrated campaign that ran throughout summer 2016. As a result the campaign that included video, radio, online and outdoor marketing, increased family visits by 68%.
David Hardy, Head of Marketing and Communications for National Botanic Garden of Wales said: "We are delighted to have won "Best Advertising Campaign" for our Butterfly House with The Media Angel who did a fantastic job, we are still reaping the benefits of their excellent work today."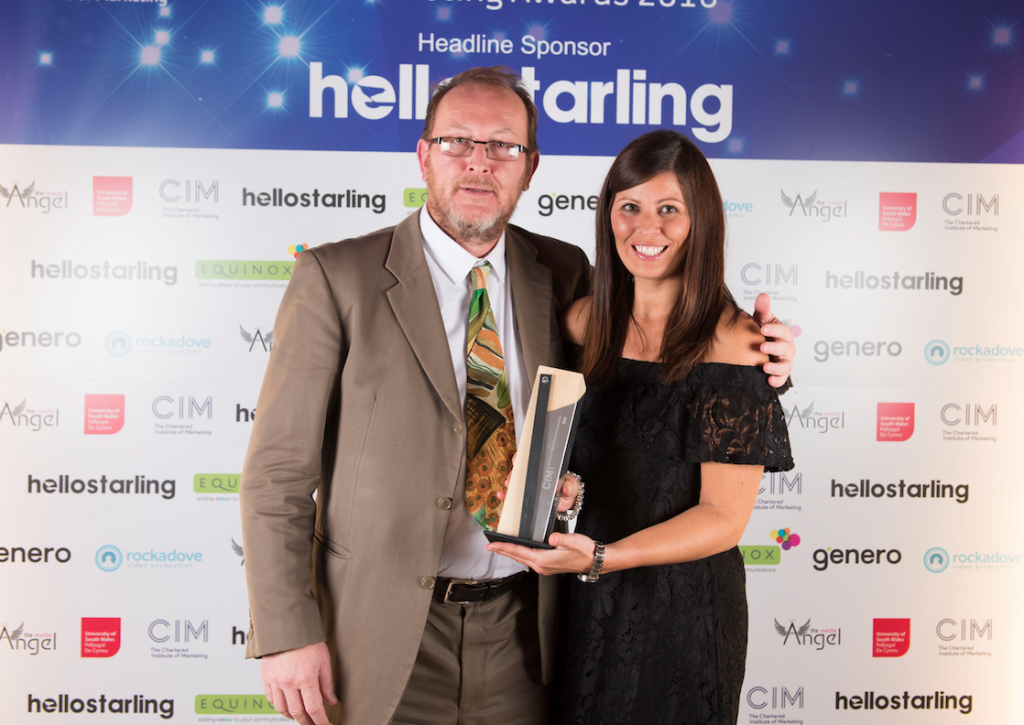 The CIM's prestigious Wales Marketing Awards highlight industry excellence and celebrate the achievements of marketing professionals in Wales. The award for "Best Advertising campaign" recognised a campaign that used striking creativity and strategic planning to reach and engage a family audience. The channels used and results delivered against the campaign objectives really impressed the judges.
On winning this accolade Managing Director Alison Debono said: "We are thrilled to have won this CIM Award. This campaign highlights that great results and a good return on investment can be achieved with limited budget, creativity and by selecting the most appropriate media mix to deliver the campaign objectives. We are beyond happy that our work has been recognised once again on a National basis"
If you would like to read more on the sucess of this campaign please click here…
If you need inspiration on implementing your next advertising campaign contact our award-winning team on 02921 320 300 or via email: [email protected]
Only 9% of digital ads are viewed for more than a second!
Research has shown that the vast majority of digital advertising is not being viewed, with many  advertisers not applying the effectiveness techniques used in press.
Since January 2016, research firm Lumen has used laptop-mounted eye-tracking cameras on 300 consumers' laptops to collect visual data on what they notice when they are online. They recorded 30,000 minutes of data, with evidence relating to around 15,000 digital ads.
It found that only 35% of digital display ads received any views at all. And, of those, only 9% of ads received more than a second's worth of attention.
As a channel, it says print still provides much more provable effectiveness than digital advertising.
It  further showed…
Full page press ad had dwell time of 2.8 seconds being read by 88% of readers.
Billboard on a website dwell time 1.5 seconds read by 38% users.
40% of press ads had dwell time of 1 second
9% of online ads had dwell time of 1 second.
25% of print adverts are viewed for 2 seconds +
4% of digital ads are viewed for 2 seconds +
This all suggests that that £7.2 bn worth of digital adverts will not be seen in the UK .
The implication is to create simple online adverts taking the elements of press adverts with smaller formats. Digital adverts tend to be viewed for about a 10th of the time that they are viewable…therefore an advert more than 10 secs long can be wasted.
If you need help ensuring your marketing budget is invested into the right media platforms so you STAND OUT and get results contact our award winning team for impartial media planning and buying expertise.
Advertising in newspapers could triple your ad campaign effectiveness
Advertisers who are cutting back on newspaper advertising might be missing a trick.
According to a new study conducted by effectiveness consultancy Benchmarketing for Newsworks, which claims that advertising with newspapers increases overall revenue return on investment by three times.
The study covers 500 econometric models to provide evidence of the impact newsbrands have on advertising campaigns. The results show that newspapers increase overall campaign effectiveness as well as boosting other media – newspapers make TV twice as effective and online display four times more effective. It goes on to claim that using digital newsbrands boosts print ROI by up to five times.
The research follows challenging times in the print market, which has seen print advertising revenues decline at a rapid rate this year as advertisers are investing more digitally.
The research hopes to prove the value of print advertising. It claims advertisers wanting to maximise effectiveness in their campaigns need to return to 2013 levels of expenditure, where investment in print was at 11.4%. That figure has since dropped to 7.6 % in 2015.
On a sector by sector basis, the research found that adding newspapers to a campaign increases effectiveness by 5.7 times for finance; 3 times for travel; 2.8 times for retail; 1.7 times for automotive; and 1.2 times for FMCG.
Claire Harrison-Church, VP marketing at Asda, said: "Newsbrands are a crucial part of Asda's marketing mix because they provide us with an influential and flexible platform that we use to inform and inspire our customers. The ultimate goal of our comms is to deliver returns and this large-scale study allows us to continue to invest with confidence. Retailers know that adding newsbrands to a campaign increases the effectiveness of other media – here we have the evidence to prove it."
If you are interested in incorporating press advertising into your media mix, call one of our team on 02921 320200 or email [email protected]
Consolidation of Press Advertising Sales?
Newspaper groups are discussing merging their advertising sales.
With declining print revenues and a lack of online growth in the face of Google and Facebook's dominance over the past 18 months proprietors and media owners have had to focus their minds.
There are around eight main sales houses currently– News UK, Mail Brands, Guardian News & Media, Telegraph Media Group, Trinity Mirror, Northern & Shell, ESI Media and The Financial Times; merging ad sales is a logical move to gain scale. This excludes regional newspaper publishers and magazine companies.
TV has consolidated into just three sales houses, radio and cinema each have only two major players; all have reaped benefits.
Trinity Mirror is very keen to push joint ad sales and have sounded out Telegraph Media Group, News UK and others.But progress has been mixed. Trinity Mirror has pulled out of 1XL, a joint ad-sales house for digital advertising, in which regional publishers Johnston Press and Newsquest remain involved.
Scott Gill, managing director of 1XL, is optimistic that joint ad sales can take off across the industry, "assuming legality is established and if there is buy-in from the highest levels", he says.
So to conclude, moving to joint ad sales might be a good idea, but no-one thinks it will be easy and it could be a while up.
If you are interested in including press as part of your advertising campaign, please give our team a call on 02921 320200 or e mail [email protected] # LoveMarketing
UK adspend has grown to £20.1 billion
A recent report by the Advertising Association/Warc Expenditure has shown a rise in UK adspend by 7.5% to £20.1 billion. This is the highest rate since 2010.
Cinema adspend saw the greatest rise of 20.8 per cent to reach a record £283 million in 2015. The release of Star Wars: The Force Awakens and Spectre has strengthened this. It is expected to grow further in 2016.
The second highest was internet adspend which rose 17.3 per cent to £8.6 billion. Mobile made up 78 per cent of the growth as it increased 61.1 per cent to £2.6 billion. Rapid growth is expected to continue in this sector.
TV adspend rose by 7.3 per cent to reach a record £5.3 billion. This was made up of a growth in spot spend of 6.7 per cent to £4.8 billion, and a 20.7 per cent increase in video-on-demand to £175 million. Total TV spend is forecast to rise a further 5.1 per cent in 2016.
Radio adspend grew 2.9 per cent to £592 million, and out of home spend rose 3.9 per cent to a record high of £1.1 billion.
Despite the fantastic growth in adspend for these platforms, print adspend for national newsbrands dropped 11 per cent to £1.2 billion. However, digital adspend increased by 2.5 per cent to £220 million. Direct mail spend grew 1.4 per cent to £1.9 billion data from the Royal Mail has shown.
The ad market is expected to grow again this year with AA/Warc forecasting 5.5 per cent growth for 2016 and for 2017.
Are you undecided on the best channels to suit your marketing objectives? Contact our friendly team on 02921 320 200 or email [email protected] for award-winning media planning and buying advice.
The Media Angel finalists in the National CIM Excellence Awards!
We are absolutely overjoyed to announce some very exciting news.
After being the only media planning and buying agency in Wales to win an award at the CIM Canmol Welsh Marketing Excellence Awards in 2015, we have been shortlisted for a marketing award at National level!
Our outstanding work on Tŷ Hafan's legacy campaign has earned us a place as finalists at the CIM Marketing Excellence Awards 2016, which is set to take place on April 14th at London's Grosvenor House Hotel. Our work has been shortlisted alongside campaigns run by Appletizer, The Happy Egg Company, Virgin Media and O2 to name just a few!
The CIM's prestigious Marketing Excellence Awards were developed to recognise and reward brilliance in the field of marketing. Now entering its seventh year, these awards are a fantastic way to raise awareness of the creativity and originality delivered by marketers who are at the forefront of the profession. We will be proudly exhibiting their work for Tŷ Hafan, which has already been praised as "simply brilliant" by the judging panel at Canmol.
Tŷ Hafan Legacies have become a key income stream for the charity, generating around 70% of annual individual giving income over the past few years. Our team were appointed to take care of the Legacy campaign on behalf of Tŷ Hafan and devise a campaign that would help the charity raise these vital funds through pledges.
We made innovative use of both new and traditional media marketing methods including video on demand, print press and direct mail to maximise an extremely precious budget. The results were outstanding, generating returns of over 300% for the charity.
Managing Director Alison stated "We are beyond thrilled to be nominated for an award at the CIM Marketing Excellence Awards this year in London! We were over the moon with our Canmol win, and are now so excited to raise the national profile of our small but brilliant organisation and of this case study; which demonstrates what can be achieved from maximising precious budgets, selecting the most affordable and appropriate media."
"In this case, a simple mix of new digital media and more traditional, popular methods such as press raised the profile of Tŷ Hafan and their schemes for donating to impressive ends – achieving amazing over-delivery on targets. The campaign delivered an overwhelming 300% more than the proposed target and we genuinely feel this case study is an inspiration for charities nationwide. We feel this should be inspiration for other small, hardworking agencies too; we've shown that despite being a team smaller in numbers we have the aptitude and dexterity to make a huge difference".
We are also so delighted for client Swansea University who has been shortlisted for their 'Making Waves' campaign; a project we have also been heavily involved in executing.
"We couldn't be happier for the team at Swansea University for making the shortlist with us; we are super excited to celebrate with them in London on 14th April" says Alison.
We would like to wish all fellow finalists the very best of luck, and we are very much looking forward to a fantastic evening.
We've made the finals for a CIM Canmol Marketing Award
We are so thrilled by the news that we have been shortlisted for a 2015 CIM Canmol Marketing Award for our work with children's hospice charity Tŷ Hafan! The Chartered Institute of Marketing hosts Canmol every year; dedicated to celebrating excellence in Welsh Marketing.
The business and marketing experts on the panel at Canmol felt our work with Tŷ Hafan; helping them raise crucial awareness of the amazing work they undertake for children with life limiting illnesses was worthy of an award nomination.
Tŷ Hafan offers comfort, care and support to life-limited children, young people and their families in the hospice, in the community and in their home so they can make the most of the time they have left together.
Tŷ Hafan established an Individual Giving team in 2012 to generate sustainable income from individuals. Legacies has become a key income stream for Tŷ Hafan, generating around 70% of annual Individual giving income over the past few years. We have been working with the charity since 2014 to help devise, buy and implement their media plans across all projects, including the Legacy promotion.
The campaign focused on how Tŷ Hafan helps life-limited children to leave their priceless mark on the world, and encouraged people to leave their own mark on the world too through leaving a gift in their Will. 'Leave your Mark' was the key message to promote this campaign.
We are extremely proud of the fantastic results the campaign achieved from using a simple mix of new digital media in the form of VOD with ITV Player and more traditional, methods such as print, magazines and direct mail. The campaign proved that by using the right mix of new and traditional media, amazing results can be delivered within an affordable cost.
We found this project extremely rewarding, as its outcome has made a real difference to life-limited children and their families in Wales. The campaign contributed to increasing the number of donations the charity needs to be able to continue with their outstanding work. The campaign delivered an overwhelming 300% more than the proposed target, generating on average £360,000 which will go a long way in helping Tŷ Hafan continue to do the brilliant work that they do.
We'd love to send our huge congratulations to all of the finalists, especially to clients Swansea University and Swansea Bay!
We're also proud to be sponsoring the drinks reception at this year's Canmol Awards on 6th November for a second year. We are very much looking forward to welcoming all guests with a glass of bubbly to start the evening off to what we are sure will be a great event!
Newspapers circulation figures ae down, online counterparts on the up
Do you still read your daily or weekly newspaper? According to the latest ABC figures, average newspaper circulations figures have fallen again across the UK.
Alison Debono, Managing Director of The Media Angel commented: "These circulation figures come as no surprise, it's sad news for press, but great to see growth in the digital sector.
Luckily there has been a massive growth in the number of users to the publisher's online sites, such as Wales Online which has doubled its audience in the past year. Over 4,025,111 monthly unique visitors took to the site during January 2015.
"Press still has a place. It's important for advertisers to remember that some of these tight-knit community newspapers and all-Wales titles are still reaching certain audiences that are perfect for certain campaign briefs."
Caring Children's Charity Chooses Caring Media Agency
The team at The Media Angel are delighted to kick-start 2015 with a new client; leading children's hospice charity Tŷ Hafan – one of the UK's top paediatric palliative care charities, based in Sully, South Wales.
One of the key objectives at The Media Angel is to work with organisations that make a real difference to people's lives. Starting this month, The Media Angel is helping to promote the opportunity to bequeath Tŷ Hafan a legacy gift in your Will.
Since 1999, Tŷ Hafan has helped over 600 Welsh families with children to make the most of their precious time left together, and one in five of the children Tŷ Hafan support is cared for thanks to the gifts that have been left in Wills.
Alison Debono, Managing Director of The Media Angel said: 
"I feel really privileged to be working with such an amazing organisation such as Tŷ Hafan . The work they do is unbelievable and makes a huge difference to families who must be going through such a hard time."
This marketing campaign consists of a mix of innovative video-on-demand advertising using ITV Player, targeting adults across Wales, and print adverts across highly circulated press and magazine titles to help share and raise awareness of the amazing work that Tŷ Hafan does.
Alison added:
"We wanted to make sure that the right media platforms were used for their precious budget, and we are confident the campaign will get to the right people across the right areas."
Laura Barlow, Legacy and In Memory Fundraiser from Tŷ Hafan said:
"It's been great working with Alison and her team at The Media Angel. Based on our brief they came up with innovative ideas and selected media options that we hadn't before considered a possibility; particularly with some of the new digital on-demand services.

"The team has been so helpful; they are flexible, supportive and we are very much looking forward to a continued partnership and friendship in the future."
To find out more about the legacy 'Leave a Gift' campaign, watch the video at: www.tyhafan.org/leaveagift.
Contact Tŷ Hafan for a free information pack via email: [email protected] or call: 029 2053 2265.
If you'd like help with any of your marketing campaigns then please get in contact with The Media Angel on 02921 320200, or email: [email protected]. We are here to help.