Which out-of-home advertising format is best for your business?
The out-of-home [OOH] advertising market is full of great formats for your brand, from static to digital, small to large, there's something for everyone!
Did you know, 98% of the UK population see outdoor advertising each week? This places the weekly reach of outdoor right up there with the likes of television as a high impact advertising format.
Roadside formats
One popular roadside format are static 6 sheets, perhaps better recognised as the adverts on bus shelters. These reach a massive 92% of the UK each week, delivering impacts on major routes into towns, cities and city centres.
48 and 96 sheets are great for high impact and are most often placed in high traffic locations.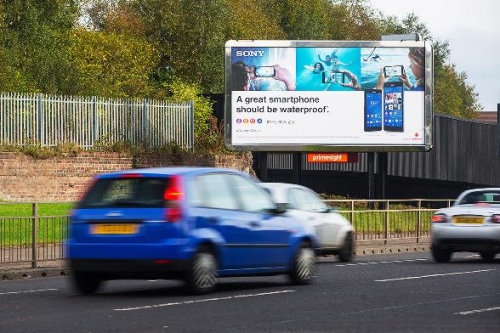 Roadside formats are always being improved and the portfolio now includes digital sites, both large and small format, find out more about the capabilities of digital OOH here.
Transport
Transport advertising on rail, the London Underground and at airports across the UK reach approximately 17% of the UK population every week.
Transport advertising can reach a wide variety of demographics; commuters, families, couples, ABC1s… The Media Angel can index opportunities to find the best for you.
Transport locations have seen increased investment in advertising opportunities over recent years, and some landmark sites have had great OOH advertising sites installed.
Bus advertising is another popular OOH media platform. There is a plethora of different options, from rears to T-sides, to full wraps! The Media Angel can help select the best bus advertising platform for your brand.
Retail  
Alongside transport sites, retail locations have also seen huge investment into advertising opportunities. Shopping centres have become multi-purpose destinations and many sites are now home to cinemas and food halls as well as retail stores, making them a popular destination.
Opportunities range from digital 6 sheets [as picture above] to larger digital sites which provide amazing impact.
The world of OOH advertising is vast, and choosing the right combination of sites can be difficult. That's where The Media Angel come in! Our team select the best sites to meet your audience and budget, if you would like to learn more, get in touch today.
Cinemagraphs could become Facebook's new trend
Today's social newsfeed of posts are far from the static state they once were. Have you noticed more videos than ever on Facebook? They could soon allow moveable images as eye-catching as these in social posts and ads…
Cinemagraphs are a type of GIF, a photo in which only a piece of the image subtly moves. Some social-networking sites and apps, such as Instagram currently support auto-play videos on loop, with the potential for moveable images to be able to do exactly the same.
Balenciaga Perfume:
Many popular cinemagraphs are borne out of the extraordinary design work of Ann Street Studio. This frosted perfume bottle reminded the designer of a block of ice, a place where creative ideas are frozen and then emerge into fruition; beginning to melt away, slowly, as ice turns into liquid.
Christian Louboutin:
Although Christian Louboutin's cinemagraph ad is a few years old, it is one of our ultimate favourites at The Media Angel. Seductive, subtle, sparkley.
Kleenex:
A simple, yet eye-catching concept for Kleenex tissues.
Ecco Domani:
This cinemagraph for Italian Pinot Grigio Ecco Domani, anchors the allure of modern Italy and the perfect summer evening, dining al fresco. The image perfectly captures the sleek, crisp and fresh taste of a glass of Ecco Domani. It's truly captivating.
Gilt Taste:
This cinemagraph was featured on Gilt Taste, a former online magazine and market for food and wine lovers. Imagine M&S recreating something similar online…
Tiffany & Co:
This ad as part of a series of cinemagraphs for Tiffany and Co. is made to capture the warm beauty of the Tiffany 1837 Collection in RUBEDO – a jeweler's metal that radiates with the warm tones of first morning light… The image is so lifelike, we just can't take our eyes off this one.
Coca Cola Can:
Coca Cola's cinemagraph was instantly popular on Tumblr, receiving 35,000 "notes," which is Tumblr's term for likes and reblogs combined. This rate of engagement speaks for itself.
Calvin Klein:
Calvin Klein uses CGI rain to drive users to the Encounter Calvin Klein website, were they could view the full fragrance film, starring Alexander Skarsgård and Lara Stone.
And 2014's Top TV Christmas Ad is…
Here's the top 10 Christmas ads for 2014, polled by phone number provider, City Numbers.
More than 1,000 consumers were asked asked about the effect of Christmas branding. 37% surveyed said it made people feel good. Take a good look at the top adverts raising spirits this season…