Commuters contribute £22.8bn to the UK economy per year
Average weekly spend of UK commuter is £89, amounting to 14% of annual online sales.
A major report into commuters' spending habits, conducted by leading Out-of-Home (OOH) media agency Kinetic and OOH media owner Exterion Media, in partnership with the Centre for Business and Economics Research (Cebr), has revealed that the value of commuter commerce to the UK economy is £22.8 billion per year. In total, this amounts to 14% of annual online spending in the UK.
Spend calculated in this latest report includes both products and services purchased via mobile whilst on the move, ranging from clothing to insurance. Across the UK, the typical weekly spend for commuters amounts to £89, rising to £153 a week for commuters in London. Nearly half (43%) of commuters nationally said they made a purchase whilst commuting at least four times a month.
In all regions surveyed, clothing was the most popular purchase, with 76% of those surveyed saying they'd purchased clothes in the past year on their commute. This was followed closely by purchases in health and beauty (71%), activities (69%), and grocery shopping (65%).
The research also uncovered that 70% of commuters have made a purchase as a result of advertising seen on their journeys.
Commuters responded (23% based in London, 18% rest of the UK) that outdoor advertising seen on their commute often reminded them to shop, proving the power of OOH advertising as a significant driving force behind purchases. It also highlights the link between online and offline commerce facilitated by smartphones.
If you are interested to see how OOH advertising can help as part of your marketing plans  contact our team at 

[email protected]

or 02921 320200.
Source: https://www.exterionmedia.com/uk/about-us/latest-news/news/commuters-contribute-to-the-uk-economy

Christmas Retailers: winners and losers
In January, the British Retail Consortium declared 2018 the worst Christmas since the financial crash in 2008. Sales were flat, with year-on-year growth sitting at 0%. In-store sales were down while online growth slowed. Consumer spending overall was up just 1.8%, the lowest rate since March 2016.
That has led to profit warnings, disappointing sales and in the worst instance HMV going into administration for the second time. But all in all it could have been much worse. And amid the darkness there have been a few glimmering beacons of hope, largely thanks to last minute Christmas shopping and online sales.
High street hope
Let's start with the bright spots on the high street. Like-for-like sales at John Lewis were up 1% after the department store stuck to its usual blockbuster spot and splashed lots of dosh on a 140-second ad about Elton John (The Boy & The Piano by Adam&EveDDB).
The main campaign video racked up 50 million views on social media – 16% more than last year's Moz the Monster campaign. 
Heavy discounting around Black Friday and in the run-up to Christmas no doubt played its part in the sales uplift, which simultaneously led to John Lewis issuing a profit warning for the year ahead as it is forced to price match due to its 'Never Knowingly Undersold' price promise.
Commercial over emotional
Marks & Spencer, with its "unashamedly commercial" approach, had the opposite outcome, with like-for-like sales across food, and clothing and home down 2.1% and 2.4% respectively but no warning on profit.
In spite of the sales dip, it claims the product focus paid off and that customers "responded well", with record sales of products that featured in the ads. That is to be expected but perhaps it would have seen wider sales rise with a more brand-led approach. The drop in sales was instead down to low consumer confidence, mild weather, Black Friday and widespread discounting from rivals.
Where M&S did see good growth was online, with a 14% increase in sales.
Next is another retailer that benefited from a big boost in online sales (up 15.2% year on year), while total Christmas sales were up 1.5% (Next's update was just a trading statement so no like-for-like figures) thanks to a late surge in shopping in December.
However, this may have been at the expense of its high street stores, where sales were down 9.2%, adding Next to the list of retailers that have had to reduce their profit guidance for the year ahead.
Having made the decision to ditch the "vanity project" TV ad in favour of much shorter ads and experiential activity in-store, Debenhams failed to "create a true gift destination" and "capitalise on the social shopping trend", like it said it wanted to do, and reported a sales decline of 5.7%.
Source: https://www.marketingweek.com/2019/01/14/christmas-marketing-strategy/?cmpid=em~newsletter~breaking_news~n~n&utm_medium=em&utm_source=newsletter&utm_campaign=breaking_news&eid=7146589&sid=MW0001&adg=5C1E1BD4-B878-43B7-9CA5-52C2F49301DB
Which out-of-home advertising format is best for your business?
The out-of-home [OOH] advertising market is full of great formats for your brand, from static to digital, small to large, there's something for everyone!
Did you know, 98% of the UK population see outdoor advertising each week? This places the weekly reach of outdoor right up there with the likes of television as a high impact advertising format.
Roadside formats
One popular roadside format are static 6 sheets, perhaps better recognised as the adverts on bus shelters. These reach a massive 92% of the UK each week, delivering impacts on major routes into towns, cities and city centres.
48 and 96 sheets are great for high impact and are most often placed in high traffic locations.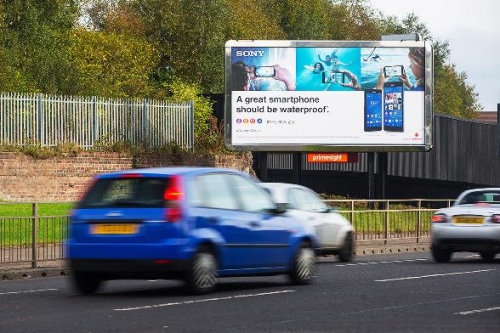 Roadside formats are always being improved and the portfolio now includes digital sites, both large and small format, find out more about the capabilities of digital OOH here.
Transport
Transport advertising on rail, the London Underground and at airports across the UK reach approximately 17% of the UK population every week.
Transport advertising can reach a wide variety of demographics; commuters, families, couples, ABC1s… The Media Angel can index opportunities to find the best for you.
Transport locations have seen increased investment in advertising opportunities over recent years, and some landmark sites have had great OOH advertising sites installed.
Bus advertising is another popular OOH media platform. There is a plethora of different options, from rears to T-sides, to full wraps! The Media Angel can help select the best bus advertising platform for your brand.
Retail  
Alongside transport sites, retail locations have also seen huge investment into advertising opportunities. Shopping centres have become multi-purpose destinations and many sites are now home to cinemas and food halls as well as retail stores, making them a popular destination.
Opportunities range from digital 6 sheets [as picture above] to larger digital sites which provide amazing impact.
The world of OOH advertising is vast, and choosing the right combination of sites can be difficult. That's where The Media Angel come in! Our team select the best sites to meet your audience and budget, if you would like to learn more, get in touch today.