Advertising in Wales
Do you want your brand to be seen by a mass and diverse audience, across Wales?
If so, check out the latest statistics for different advertising media in Wales!
---
TV
On average, people in Wales spend 2 hours 45 minutes per day watching broadcast TV, the second most of any nation. Unsurprisingly given the passion for sport in Wales, the most-watched TV program in 2022 was Six Nation Rugby: Wales vs. France (Ofcom, 2023).
On average, ITV reaches 80% of adults per month in Wales, with "I'm A Celebrity, Get Me Out Of Here" becoming one of Wales's most popular programs – reaching up to 615K adults in one episode alone (ITV, 2023).
S4C, aimed at a Welsh-speaking audience, offers a potential yearly audience of almost 2.5 million people in over 1.3 million homes.
CTV
CTV 'Connected TV' is content accessed via apps and streamed over smart TVs, or a connected device, such as Amazon Fire Stick, PlayStation, and Apple TV; Nationally, CTV is heavily on the rise with a 15.7% growth rate expected for 2023 (Statista 2022).
7 in 10 TV users in Wales had a connected TV device, and users were more likely to connect their TV to the internet via a box (Sky+ or Virgin Media) by 44%, compared to England with 32% (Ofcom 2023)
VOD
According to Ofcom 63% of all Welsh households are currently subscribed to at least one VOD service and the average viewing duration for these services is 4 hours and 43 minutes whilst people in Wales are estimated to spend 15% of their total video viewing time on video-on-demand services, as well as 15% on video-sharing websites/apps.
Radio
Radio is a highly effective form of advertising, reaching 88% of the adult population weekly, equivalent to 49.4 million people.
The average listener tunes into 20.5 hours of live radio each week, and a record 39.2 million people are tuning into commercial radio every week, up by 1.3% on the quarter and 8% on the year.
North Wales appeared to have the most success in Q2 2023 RAJAR's update; Capital North Wales' reach increased from 100,000 to 121,000, up a staggering 21% and Heart North Wales reach has also increased from 89,000 up by 14%. Its total listener hours are up by a staggering 40% from 606,000 to 846,000, whilst the share of listening is up from 2.9% to 4.1%.
Heart South Wales in Q2 has the highest number of active listeners with 403,000, with a 21% reach.
Radio advertising makes it possible to customise messages to each audience, helping targeting specific demographic groups, local communities, and geographical regions.
Radio has the highest rate of ad avoidance, demonstrating how radio listeners are much less likely to "tune out" when there are radio commercials.
(Rajar 2023)
Transport
The Q1 (2023) TFW report has recorded across South Wales alone that 300,000 passengers have used bus transport to commute every week and is estimated that around 100 million bus journeys were made in 2022.
Reportedly bus advertising is the most-seen outdoor advertising medium, reaching over 48 million adults over a two-week period (Route, 2023).
There has been a total of 5.4m passenger journeys made on TFW trains across Wales in Q1 of 2023, this is still down in comparison to pre-pandemic levels (Wales Online, 2023), On average 71% of regular rail users have noticed an OOH ad in their respective station in the past week (Clearchannel, 2023).
OOH/ DOOH
Out-of-home and Digital out-of-home advertising has the ability to reach 98% of the UK population at least once a week, highlighting that OOH is a very powerful method of advertising (outsmart 2023). It has been suggested that on average 71% of the UK population acknowledges an advert at the roadside (75 Media, 2023).
OOH and DOOH drive online engagement as well as purchase intention or service use, almost 26% of surveyed customers have visited a website in response to an OOH advert, and a 38% increase in mobile engagements (75 media, 2023).
The top 3 performing OOH/ DOOH sites in Wales are:
'M4 Super 6' located in Newport with 574,923 weekly impacts.
Swansea Bus Station Large Digital Format with 498,000 weekly impacts.
Static 6 sheet located on Newport Road, Cardiff with 259,346 weekly impacts.
Digital Audio
Amazon Music accounted for the highest listening time in Wales on music streaming services with 24% – 4 times the UK adult national average (Ofcom, 2023).
The average Spotify user is estimated to spend 25 hours per month listening to music (Ferjan, 2023).
Podcasts have grown massively in popularity in recent years, from 2022 it was estimated there would be an average of 22 million monthly listeners in the UK (Cybercrew, 2023). As a result, advertising through podcasts has become highly favourable in a marketing mix, expecting to see a growth rate of 15.7% at the end of 2023 (Thepodcasthost, 2023).
Social Media
More than 9 in 10 (92%) homes in Wales had an internet connection in the first half of 2023 (Ofcom, 2023).
An average person in the UK is estimated to spend 145 minutes every day on social media platforms (Workup, 2022), with Facebook remaining the most-used social media platform with 44.8 million active users nationally (Thesocialsheppard, 2023).
Instagram came in second with 35 million active users at the end of Q2, while YouTube was third with an estimated 16.3 million users in the UK (Statista, 2023).
If your looking to start an advertising campaign across Wales, Get in touch with our experienced team.
ITV's New Platform ITVX
Yesterday saw the launch of ITV's new and sparkly free streaming platform ITVX replacing ITV Hub as the new home of content for ITV. The new platform provides viewers with a more exciting and improved experience offering more new and exclusive programmes.
From launch, viewers will have access to over 10,000 hours of content in high definition, and ITVX will drop new and exclusive programmes every week of the year.
Viewers can look forward to seeing their favourite past and present programmes, plus documentaries, cult classics and hundreds of blockbuster films which will all now streamed for free.
All ITV's channels will be available to livestream through ITVX, as well as additional themed channels (known as FAST channels), and a dedicated news section on ITVX.
ITVX will premiere a collection of top quality new dramas from 8th December, which will only be available for free on the streamer including A Spy Among Friends starring Damian Lewis and Guy Pearce. At least one flagship show will then launch on ITVX per week going forward.
Flagship ITV shows will all be available on ITVX on their first day of broadcast, allowing viewers to binge watch new dramas such as Stonehouse starring Matthew Macfadyen and Keeley Hawes.
Over a thousand films will be made available to stream each year and ITVX will launch with an impressive array of documentaries and true crime collections plus factual commissions including The Rise and fall of Boris Becker.
Those viewers who love Science Fiction won't be disappointed with a robust offering ranging from classics including Thunderbirds and Captain Scarlet to the likes of Supernatural and Nikita.
ITVX will represent a new and exciting way for news to be consumed by audiences. Viewers can expect to see a dedicated rail featuring the most significant and interesting stories, updated throughout the day.
ITVX's Launch Campaign
ITVX, upon launching yesterday initiated a nationwide advertising campaign across TV, cinema, digital video, and outdoor.
The campaign aims to drive awareness, consideration and trial of ITVX and target "mainstreamers" with high impact and frequency during their launch period.
This is an audience segment, identified by research and first-party data, that increasingly watch TV content via streaming services, and are interested in "big, high quality, mainstream content".
.
1 Million Brits have cancelled subscriptions to streaming services such as Netflix and Amazon Prime
The cost of Living crisis is having an effect on TV viewing consumption. Reports indicate that almost one million Brits have cancelled their subscriptions to streaming services including Netflix, Amazon Prime Video and Disney+ so far this year.
According to London analytics firm Kantar, the number of UK homes with at least one paid-for video subscription fell by 937,000 between January and September. This is partly due to reducing outgoings to help pay for energy and food and partly due to "content fatigue" – an overwhelming amount of choice in content available.
Between July and September 2022, the number of British households subscribed to at least one video streaming service fell to 16.18 million – a drop of 234,000 compared to the quarter prior (April to June).
Despite being the world's biggest streaming service, in the UK, Netflix took just a 2.1 per cent share of new subscribers from July and September.
This was less than Prime Video (29.4 per cent), Paramount+ (24.6 per cent), Disney+ (17.5 per cent), Apple TV (3.4 per cent) and more.
We've previously touched on the news that Netflix has announced that it will be introducing a new ad-supported tier which will be launched in November at the cost of £4.99, this will be partly to benefit from ad revenue and partly to attract new subscribers for less cost and to void more cancellations. This Basic package will show an average of four to five minutes of adverts per hour, with each advert 15 or 30 seconds in length.
However the arrival of Paramount+ in the UK has actually seen an increase in the number of video-on-demand subscriptions in the UK rising to 28.2 million.
According to Kantar, Paramount+ enjoyed a successful launch and is already the fifth-largest video-on-demand service in the country, higher than both Discovery+ and AppleTV+.
Overall, more than five million UK homes still have the three most globally popular video streaming services – Netflix, Prime Video and Disney+.
It will be interesting to see how the battle of subscription channels continues over the coming months and what this will mean for linear TV channels as these audiences will likely increase. This in turn will benefit brands advertising on linear TV.
If you are thinking about advertising to large audiences on TV please contact our experienced team.
ITV Hits Record Ad Revenue
ITV hits record 24% ad revenue growth!
UK TV giant ITV has reported its full-year advertising revenue which is record for 2021 and painted a very healthy post-pandemic picture across the board.
The company, led by CEO Carolyn McCall, saw total external revenue soar 24 % to £3.4 billion, a sharp rise on the COVID-impacted 2020 figure of £2.7 billion. Total revenue at its production arm ITV Studios grew by 28 % to £1.7 billion, now just 2% below 2019's pre-pandemic levels. ITV Studios external revenue was up 30% to £1.17 billion.
Also it has been announced that ITV is combining its subscription and ad-funded streaming services in ITVX, a new digital platform that will have 15,000 hours of content at launch and a 160 million-pound dedicated budget for shows.
We've had great success with our client campaigns that have ran on ITV. Over the many years of working together on campaigns, we have built a great rapport with all TV and video on demand suppliers. We are currently working on some exciting campaigns, and have many bookings and proposed plans in place for the year ahead.
If you're looking to advertise on TV or VOD products, we have specialist media buyers who can help make your adverts come to life.

Contact us today to find out more!
2022 Trends – Video / Video on Demand
As the lockdown drove up consumption of videos with multi screen usage in most households, advertisers need to keep up with users love of video content. As such 86% of businesses use videos as part of their strategy. (Wyzowl 2021)
YouTube is the biggest platform and as advertisers are finding out, these adverts are consumed on all devices including TV and conversely TV is being consumed more frequently on smartphones. In 2022 TV will account for 12.4% of total media ad spend down from 13.3% in 2021. Broadcaster Video On demand ad spend will grow by 26% (£583.9 million) with marketeers likely to pull budget from linear TV.
Advertisers are taking advantage of the large user-base of Facebook, Twitter, and Instagram for their video marketing campaign. 7 out of 10 companies say that their advertising budgets will increase.
2022 is predicted to see:
Shorter ads – people only like videos that quickly grab their attention
Shoppable video's– allowing purchases straight from the video
1 to 1 video – personalised message videos for customers mainly through smartphones
Live Video – live streaming used for product demos and interviews.
Transcribed Text – Publishing the transcription of a video on a site with the actual video embedded to increase ranking.
if you want to find out more about using Video as part of your media campaign, contact one of our team at The Media Angel
Will Disney+ be able to disrupt Netflix?
Disney+ is set to launch in the UK on 31st March 2020, does this spell the end for Netflix domination of the streaming market?
According to a survey by Audience Project, 26% of Brits plan to subscribe to Disney+ when it launches.
Of those, 37% plan to cancel other subscriptions to balance the cost.
Over three in 10 claimed Netflix will be the service they drop. Almost a quarter will ditch Amazon Prime, while 17% said Sky's Now TV.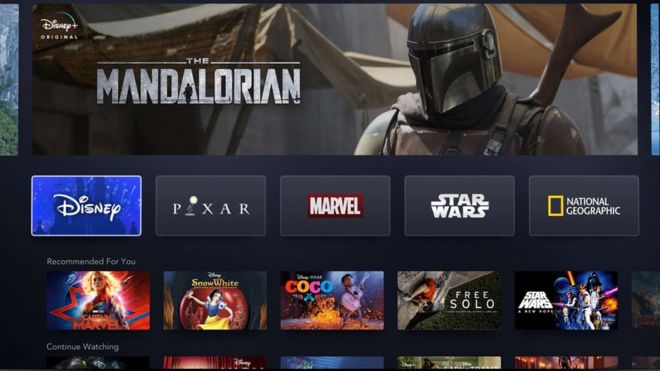 "The entrance of Disney+ into the battleground of UK streaming services is set to radically change the state of play," said Rune Werliin, chief product officer at AudienceProject.
"Netflix's reign could be in question, as thousands of UK consumers consider switching from its service to Disney+. By this time next year, we could be looking at a very different picture when it comes to digital TV subscriptions and usage."
Netflix is currently the most popular streaming service in the UK, used by 75% of the country. BBC iPlayer follows at 60%, and Amazon Prime is used by 50%.
Will you be changing your streaming platforms in 2020? Video-on-demand advertising captures an engaged audience, get your brand seen amongst shows like Love Island, First Dates, Big Little Lies and more.
Sources https://www.bbc.co.uk/news/entertainment-arts-50344494 https://mediatel.co.uk/newsline/2019/11/19/future-disney-users-plan-to-ditch-netflix/
Love Island audience grows 10% year on year
After another record breaking year, Love Island continues to be at heart of the nation's conversation.
This year saw the biggest series yet of Love Island with a total average audience of 5.6million viewers.
Quick Stats
+546%
Love Island's TV audience has grown +546% since Series 1, and +10% year on year.
8 million
Love Island was the most talked about TV series of the year, generating 8 million tweets.
The most watched programme of the year for 16-34 adults.
The biggest show on ITV2 ever.
3 million
Love Island's Instagram hit 3m followers, becoming the biggest reality TV account, beating Keeping Up with the Kardashians.
What does it mean for brands?
Love Island 2019 brand partners saw an increase of 15% in brand awareness.
Love Island 2019 brand partners experienced a 19% increase in brand consideration.
Love Island online brand partners experienced a 20% uplift in unique search visits in 2019.
If you'd like to advertise your brand amongst Love Island, or any other popular program, then get in touch with our friendly team at The Media Angel on

[email protected]

. You'll be pleasantly surprised at how affordable it could be.
Our favourite brand partnerships in Netflix's 'Stranger Things'
Brand partnerships galore help to promote Netflix's 'Stranger Things' third season.
Netflix has started partnering with brands to market original shows like 'Stranger Things', 'Glow' and 'Queer Eye'.
Partnerships have grown since the show debuted. This handy graphic from Business Insider shows how Netflix has introduced major partners into the show's marketing strategy.
Third season partnerships
This season has seen partnerships with Baskin-Robbins, Burger King, Coca-Cola, H&M, Lego, Levi's and Nike. These have helped get Netflix into physical stores.
As the third season takes place during summer, it provided the perfect opportunity for Baskin-Robbins, especially as scenes took place in fictional ice-cream store 'Scoops Ahoy'. The company released custom flavours and a TV advert.
Merchandise releases
This season, H&M launched a retro collection and Nike teased the release of their 'Stranger Things Air Tailwind 79 OG Collection' which mixes iconic design with 'Stranger Things. imagery.
All about the food
In the US, focus has been on food partnerships. Burger King released the 'Upside-Down Whopper', a reference to the 'hidden world' in the show. Available in just 11 stores (another show reference), the brand also renamed themselves 'Stranger King' on Twitter and flipped their logo.
Coca-Cola re-released the retro 'New Coke. Ironically, the original drink was taken off sale after just 79 days after a barrage of complaints. However, after featuring in the new season of 'Stranger Things', Coca-Cola have released 500,000 cans in the US.
Have you spotted these brand partnerships, are they any more in the show you've seen?
Sources:
https://www.campaignlive.co.uk/article/stranger-things-11-best-brand-collabs-series-three/1589953, https://www.businessinsider.com/what-stranger-things-says-about-netflix-marketing-strategy-2019-7?r=US&IR=T, https://metro.co.uk/2019/07/05/what-was-new-coke-as-featured-in-stranger-things-season-3-and-what-happened-to-it-10115806/
5 Reasons Why You Should Advertise on Video-on Demand
Find out more about advertising on video on demand (VOD).
1. Watching TV is no longer limited to the living room
Gone are the days when you needed to be in your living room to watch TV. Now, people can watch TV via their tablets, smartphones and laptops. With the expansion of data networks like 4G and 5G, TV viewing has gone mobile.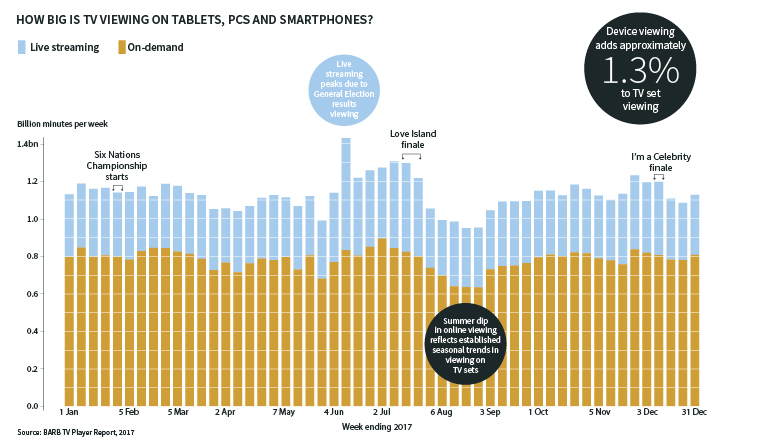 2. You can target your advertising
Advertisers are able to select and target audiences based on region, demographic profiling, audience interests (foodies, deal seekers, eco-conscious) and genre of content (entertainment, lifestyle, comedy and factual) for example. These choices allow your advert to be shown to exactly the right people.
3. Video-on-Demand (VOD) is great for reaching a younger audience
VOD is extremely popular with the younger audience. 75% of the UK's 16-24 year olds are registered on ITV Hub and 35% of the UK's 16-24 year olds are registered on All 4. This makes this platform great for reaching the younger audience. Read our blog on how Love Island reaches younger viewers.
4. VOD viewing is growing
VOD viewing on devices has grown by 14% year on year (Thinkbox). In recent news, the UK's two biggest broadcasters, ITV and the BBC, are in the final stages of discussions to launch a new subscription video-on-demand streaming service, BritBox, in the second half of 2019.
5. The ability to reach an affluent and engaged
61% of viewers are ABC1 (IPA Touchpoints 2016) and the view-through rate (the proportion of ads viewed from start to finish) is 92%. VOD has highly engaged viewers catching up on their favourite shows and watching premium box-sets and movies. They are happy to watch ads, as they are getting free, quality content in return.
ITV and BBC push subscription video on demand platform to rival Netflix
The UK's two biggest broadcasters, ITV and the BBC, are in the final stages of discussions to launch a new subscription video-on-demand streaming service, BritBox, in the second half of the year.
"BritBox will be the home for the best of British creativity – celebrating the best of the past, the best of today and investing in new British-originated content in the future," said ITV CEO Carolyn McCall.
Other UK broadcasters are expected to join the project in due course. While no price has yet been confirmed it is expected to be "competitive".
The move is a belated response to developments in the sector, where Netflix, Amazon and Sky's NOW TV have led the charge to meet growing consumer demand in the UK for streaming services.
In the UK, more than 12 million households have at least one SVOD service and BARB data shows that more households are taking multiple subscriptions. The annual growth in homes with any SVOD service is 20%, the growth in homes with multiple services is 32%, with 4 million homes now having more than one subscription.
In addition to the demand for streaming services, ITV research indicates strong interest in British content. With 43% of all online homes interested in subscribing to a new SVOD service which features British content – a figure that rises to over 50% in homes with a Netflix subscription.
Josh Krichefski, CEO at MediaCom UK, described the new venture as "a positive, but ultimately necessary, step" for broadcasters seeking to attract a generation of younger viewers who are most likely to be abandoning traditional linear TV; nearly half of teens watch TV on-demand most often, he pointed out.
A recent study by marketing and media consultancy Ebiquity suggested that broadcasters in the UK face a "tipping point" over the next three to five years as more viewers switch to subscription streaming services, such as Netflix and Amazon Prime.
It remains to be seen whether viewers will be prepared to add yet another subscription layer on top of the TV licence fee. Much will depend on the quality of the original programming and here BritBox is a small player when set against the £10bn Netflix spent globally on this last year.
How could advertising on video-on-demand help your advertising goals? Get in touch, [email protected]
Sourced from ITV, Guardian, Variety; additional content by WARC staff
ITV reports drop in ad revenue.
ITV ad revenue dropped in 2016 by 3% to £1.67bn and predicts a drop of 6% for Q1 in 2017. This is the first drop since 2009 following the financial crisis and the economic uncertainty is being blamed for 2016.
However, ITV says that it outperformed the advertising market as a whole and predicts it will do the same in 2017.
Supermarkets, banking, retail, finance, and food sectors decreased their spend.
Entertainment, leisure, cars, cosmetics and household goods continued to spend.
Production revenues helped its pre-tax profit rise 4% to £847m.
TV Versus On-line Video Consumption
There has been much discussion recently on the way consumers are viewing video content…
Whether via YouTube, on-line or TV channels, bringing to the forefront the question of whether broadcasters need to evolve in line with viewer expectations of video.
The following statistics show our consumption of video content
*In 2015, 61.6% of all video viewing was on Live TV
*14% of video content accessed was on Playback TV.
*38.5% of users viewed videos online
* 56% of 16-24 year olds consumed videos online
*YouTube has reached more 18-34 year olds on mobile alone than any commercial TV channel in the UK and 50% of those aged between 16 and 34 have accessed YouTube on a TV set.
* 90% of this age group own smartphones and 60% own tablets.
* 41% of this age group said that they would choose YouTube above TV as a source for videos.
* 59% of this age group are more likely to find content on what they are interested in by searching on YouTube.
* YouTube claim brands should consider pushing 24% of their TV budgets into Youtube in order to reach younger audiences
The reason for these increasing video online stats is simply control, convenience and content relevancy. Basically put, viewers can watch what they want, when they want and how they want to….as a platform for advertising, however, it still needs to mature.
This said TV remains at the forefront for video viewing and it remains extremely effective as a mass-reach advertising medium. Where Online video advertising does not offer the same mass reach in a single moment from brand awareness which is possible with TV, it does allow advertisers to utilise data to offer personalisation, allowing the targeting of the right creative treatment of the right product to be put in front of the right person at the right time.
TV is beginning to move in the right direction offering personalisation with connected TVs and set top boxes. Sky, have made progress with Sky AdSmart and Sky Advance, offering advertising based on location, household demographic, and viewing behaviour.
So, TV remains a powerful and effective medium, but in order to continue to thrive broadcasters must invest and collaborate in the areas of technology, data and strategies to seize the moment and evolve. If broadcasters manage to evolve, delivering all things to viewers and advertisers, from mass reach to mass personalisation – TV will remain the leader in video consumption. But we have to consider that the two fulfil different roles in our happily co-existing..
Want to find out more on the benefits of using television YouTube or both? Get in touch with The Media Angel on 02921 320 200 or [email protected] to find out how your brand can be seen on a local, regional, national basis.