The Media Angel Take Home Best Advertising Campaign Award
We are delighted to announce that we have won Best Advertising Campaign at this years CIM Chartered Institute of Marketing Wales/Cymru Awards 2016 held at Portland House in Cardiff Bay on 23 November.
Our innovative advertising campaign that we implemented for National Botanic Garden of Wales was to help them increase visitor numbers and promote new attractions including The Butterfly House / Plas Pilipala. To help achieve this we developed a family focussed, integrated campaign that ran throughout summer 2016. As a result the campaign that included video, radio, online and outdoor marketing, increased family visits by 68%.
David Hardy, Head of Marketing and Communications for National Botanic Garden of Wales said: "We are delighted to have won "Best Advertising Campaign" for our Butterfly House with The Media Angel who did a fantastic job, we are still reaping the benefits of their excellent work today."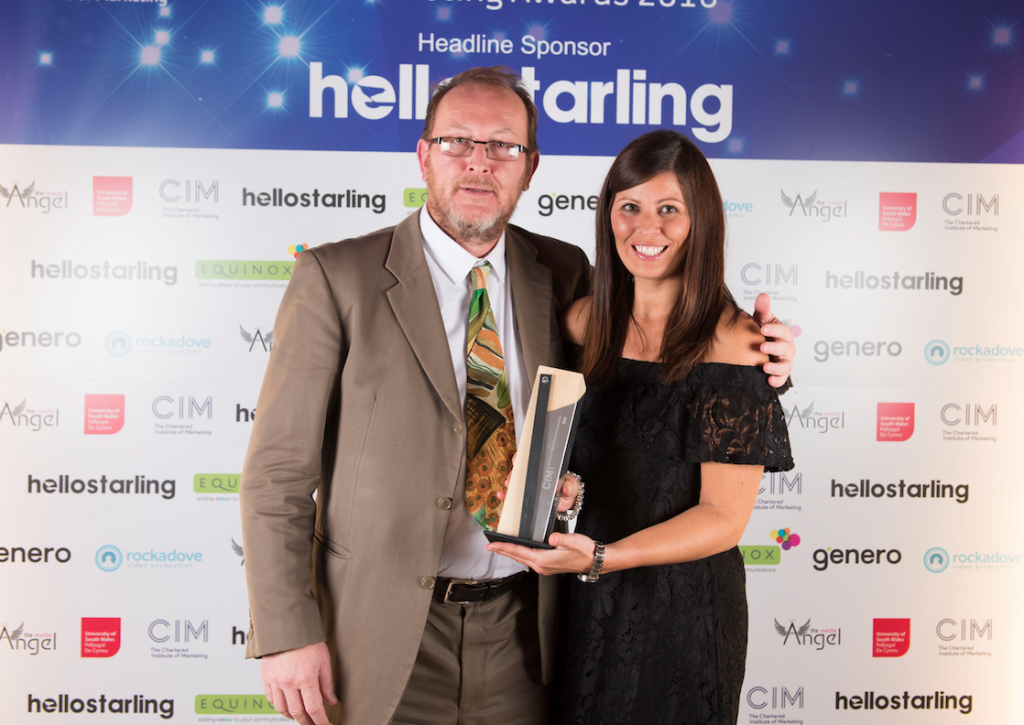 The CIM's prestigious Wales Marketing Awards highlight industry excellence and celebrate the achievements of marketing professionals in Wales. The award for "Best Advertising campaign" recognised a campaign that used striking creativity and strategic planning to reach and engage a family audience. The channels used and results delivered against the campaign objectives really impressed the judges.
On winning this accolade Managing Director Alison Debono said: "We are thrilled to have won this CIM Award. This campaign highlights that great results and a good return on investment can be achieved with limited budget, creativity and by selecting the most appropriate media mix to deliver the campaign objectives. We are beyond happy that our work has been recognised once again on a National basis"
If you would like to read more on the sucess of this campaign please click here…
If you need inspiration on implementing your next advertising campaign contact our award-winning team on 02921 320 300 or via email: [email protected]
National Botanic Garden of Wales increase family figures by 63%
New attractions at the National Botanic Garden of Wales (NBGOW) targeted at families with children coupled with an integrated marketing campaign across the summer has really helped drive figures.
The newly opened Butterfly House (Plas PiliPala) and other activities for children including zorbing, trampolining, a straw bale maze and large games were used in an advertising and marketing campaign that comprised of: Bus streetliners, 6 sheets and vinyls in Cardiff and Swansea; a sponsorship on Heart Radio which allowed for key messages to be broadcast to a family listenership across South and West Wales, a promotional video which was posted online on NBGOW website and also integrated into a quiz and competition on Wales Online.
These highly interactive elements online helped to bring the campaign to life, generating 444 competition entries to win family tickets to NBGOW and really made the garden a talking point through social media posts on Facebook and Twitter. These on-line elements were backed up by a campaign of skins and banners on mobile to reiterate the message to a targeted audience. This continued with a sponsorship of the "Whats On" pages on Swansea Evening Post. Combined, this all heightened NBGOW's profile as a day out attraction for families whilst maintaining and growing their more traditional visitor.
This highly visual campaign started in June and proved that a multimedia advertising campaign on a relatively small budget can really work for example.
Across July there were 30% more families with children than in July the previous year.
Overall the summer saw their figures soar from 30,308 in 2015 to 38,948 in 2016 a 28.5% increase.
Furthermore, new memberships are up by 25% over the summer in comparison to last year.
Membership total takeup was  up by 39% which is the highest takeup since 2011.
Membership renewal were up by 9%.
Facebook likes were up over 1,513 by 12%
– Head of Marketing and Communications says
"Alison and her team really made the difference and, as well as being helpful, responsive, innovative and efficient, our super summer visitor figures and all the fabulous feedback we've received, prove they are effective too. I cannot recommend them highly enough and we're already talking to them about our next campaign"
NBGOW overriding campaign objective was to target new visitors ensuring that they were seen over the summer months as a key tourist attraction; they certainly achieved this with an increase in footfall from families and new and renewed memberships being taken up.
If you need help with your marketing campaigns and want to see results, then CLICK HERE to contact our award winning team for our impartial media planning and buying expertise. #LoveMarketing